Syria
People took to the streets of Pakistan's Karachi to protest against terror attacks by foreign-backed terrorists against the shrine of Hazrat Zaynab (AS) in Syria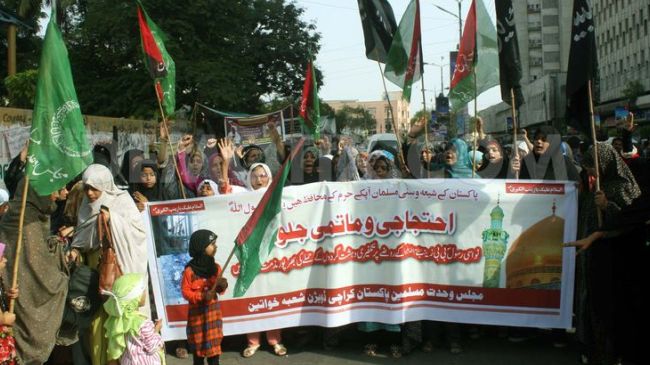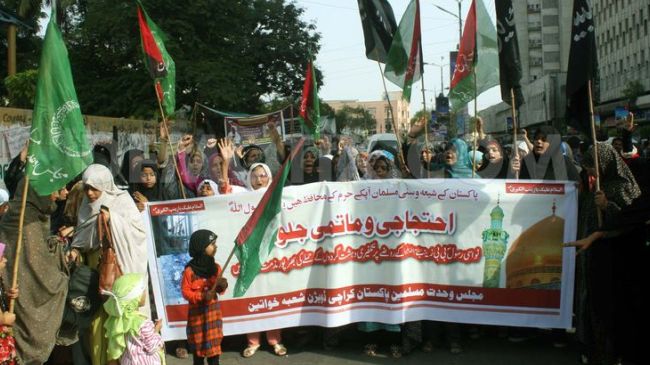 People have taken to the streets of Pakistani city of Karachi to protest against terror attacks by foreign-backed militants against the shrine of Hazrat Zaynab (AS) in Syria.
The rally was staged by Majlis Wahdat-e-Muslimeen's women wing in the country's largest city on Tuesday.
The shrine is located 16 kilometers (10 miles) south of the capital. Hazrat Zaynab (AS) is the daughter of the first Shia Imam, Imam Ali (PBUH), and Hazrat Fatimah (PBUH) — Prophet Muhammad's daughter.
The demonstrators chanted slogans against the United States and Israel, accusing them of sowing discord among Muslims.
On Monday, similar protests were held in the cities of Islamabad and Quetta.
On Saturday, the foreign-backed Takfiri militants fired mortar rounds at the shrine, which is located near capital Damascus.
In May, foreign-sponsored militants desecrated the shrine of Hujr ibn Adi — a close companion (sahaba) of Prophet Muhammad (PBUH) and a staunch supporter of Imam Ali (PBUH) — in a northeastern suburb of Damascus, exhumed his body, and took it to an unknown location.
The Syria crisis began in March 2011, and many people, including large numbers of soldiers and security personnel, have been killed in the violence.
The Syrian government says that the chaos is being orchestrated from outside the country, and there are reports that a very large number of the militants are foreign nationals.
Damascus says the West and its regional allies, such as Qatar, Saudi Arabia, and Turkey, are supporting the militants.
In an interview broadcast on Turkish television in April, Syrian President Bashar al-Assad said that if the militants take power in Syria, they could destabilize the entire Middle East region for decades.
"If the unrest in Syria leads to the partitioning of the country, or if the terrorist forces take control… the situation will inevitably spill over into neighboring countries and create a domino effect throughout the Middle East and beyond," he stated.