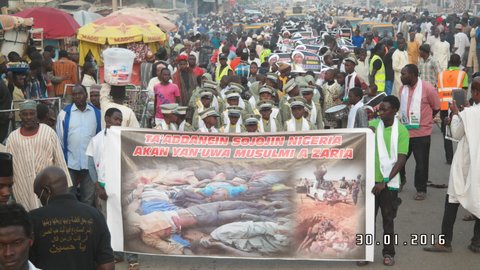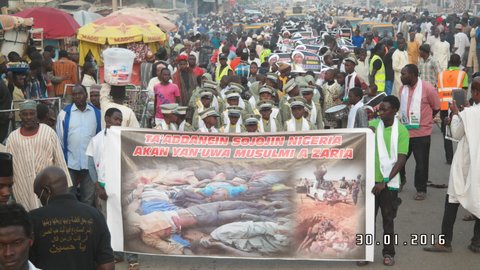 Children and youths of the Islamic movement in Kano were not left out in coming out to voice their demand for the unconditional release of His Eminence Shaikh Ibraheem Yaquob El Zakzaky (H), today evening 21st Rabiul Thani, 1437 (30/1/2016).
Shaikh Ibraheem Zakzaky (H) has been detained by the Nigerian Government since the military assault on Shaikh Zakzaky (H) his family and followers which led to the killings of  about 1000+ persons between December 12th -14th , 2015 in Zaria city Nigeria.
The protest march started from Fagge Friday prayer Mosque, passed through Ibrahim Taiwo road, Kanti Kwari and through Sani Abacha Stadium and ended at Kano State radio broadcasting Station.
The children and youths, during the protest, condemned the oppression of the Nigerian government and reiterated thier demands which include release of their parents, brothers and Sisters , the return of dead bodies of those killed for proper Islamic rite burials and paying of compensations for destroyed properties.
At the end of the protest march, a correspondence from Kano radio broadcasting station interviewed Hakima Muhammad Mahmoud who told them the reason for the protest march.