Palestine
PLO supporters in Gaza torch photos of Abbas, his Foreign Minister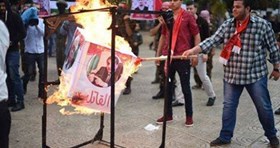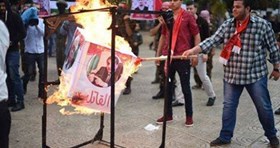 Supporters of the Popular Front for the Liberation of Palestine (PLO) torched on Tuesday photos of PA Chairman Mahmoud Abbas, his Foreign Minister Riyad al-Malki, and PA ambassador to Bulgaria Mahmoud al-Madbouh during a rally in Gaza City. The PFLP had organized a rally in Gaza city marking the 40th day after the assassination of Omar al-Naif, a prominent PFLP leader who was killed by persons believed to be Israeli agents in the PA embassy in Bulgaria.
The rally kicked off from al-Saraya square where senior PLO political leader Hussein Mansour alluded to the possibility of PA officials' complicity in al-Naif's assassination. He vowed during his speech to prosecute all those responsible for and involved in al-Naif's murder including the Palestinian ambassador in Bulgaria and the Foreign Minister.
On the other hand, the leader in PLO strongly slammed Abbas's recent decision to freeze funds allocated for the group through the PLO National Fund, considering it "a failed revenge policy." Mansour called for adopting a real national strategy to support the prisoners' issue as it represents "a central issue" for the Palestinian people.
He also called for making more efforts to restore Palestinian slain bodies held by Israel for allegedly carrying out anti-occupation attacks. Israeli policy of detaining Palestinian bodies is a failed policy that aims to stop the Jerusalem Intifada, he said.