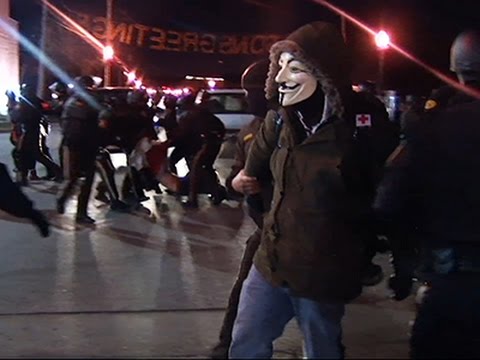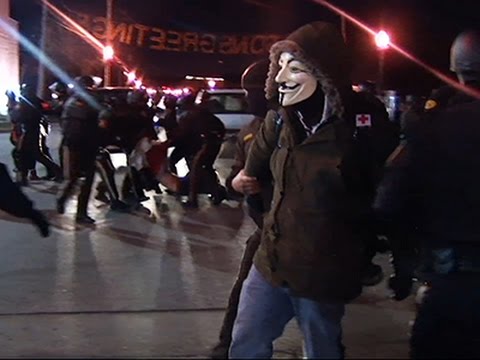 The US police in Ferguson, Missouri, have arrested several protesters during a demonstration calling for the indictment of a white officer who shot dead an unarmed African-American teenager in August.
The arrests were made on Thursday afternoon, as the protesters were rallying outside the Ferguson police department in the blistering cold, demanding the criminal indictment of Darren Wilson, who shot 18-year-old Michael Brown on August 9 multiple times.
The protesters were reportedly arrested after they squared off with officers dressed in militarized attire. The arrests were the first in almost a week.
The grand jury has been deliberating for three months to determine if Wilson was at fault for Brown's shooting. The jury's ruling will determine whether the white officer is charged with a crime and faces a trial.
Many in the predominantly black St. Louis suburb expect another wave of violent protests if no charges are brought against the officer or if the jury decides that no criminal act was committed by Wilson.
Local businesses have already boarded up their windows in anticipation of the possibility that more rioting might break out in the predominantly black St. Louis suburb.
Brown's family and activists want prosecutors to charge Wilson with murder.
The governor of Missouri has declared a state of emergency and called in 400 National Guard troops to support local police.
Jay Nixon said in a statement on Monday that the measure was in anticipation of more unrest as the grand jury deliberates about bringing criminal charges against Wilson.
According to a poll by the New York Times/CBS News, the majority of African-Americans have lost confidence in the justice system following the killing.
The poll found about six in 10 blacks said they had little to no confidence the investigation into Brown's shooting would be handled fairly.