North America
Police clash with protesters in Minnesota over killing of Black man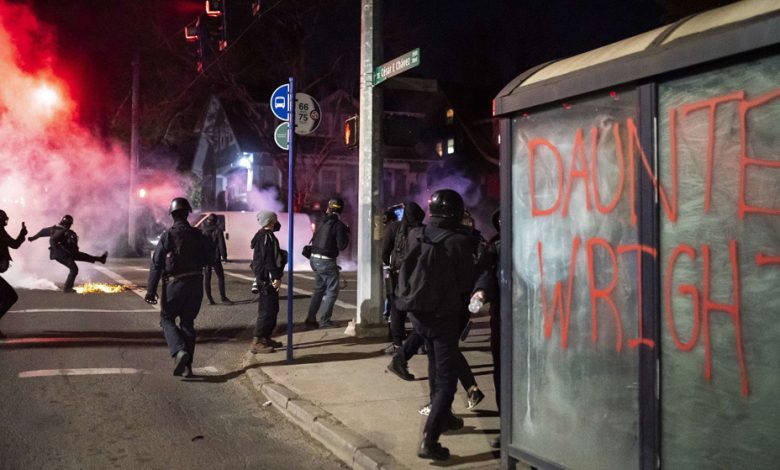 Police clash with protesters in Minnesota over killing of Black man
Fresh violence has broken out despite a curfew imposed in the US state of Minnesota after a police officer fatally shot a young Black man.
Police clashed with protesters on Monday night and more protests are planned for Tuesday night across many US cities including Minneapolis and Portland after the police chief in Brooklyn Center said that the officer who shot Daunte Wright during a traffic stop on Sunday meant to deploy a taser instead of their gun.
Police clash with protesters in Minnesota over killing of Black man
Protesters demanding justice flocked in front of the police station in Brooklyn Center in the Minneapolis suburb where Sunday's traffic stop killing had occurred.
Police responded to protesters marching, chanting and holding signs demanding justice for Wright's death by firing tear gas, rubber bullets and flash grenades. Protesters later responded by throwing water bottles and fireworks.
In addition to Brooklyn Center police officers, state troopers and members of the Minnesota National Guard were stationed outside of the police department, CBS Minnesota reports.
Forty protesters were arrested during the unrest which left several officers injured.
In Portland city, police said at least 200 people were gathered at the Penumbra Kelly Building, which houses an office for the Multnomah County Sheriff and Portland police, throwing rocks and other projectiles at officers .
"We are here today on behalf of Daunte and all the lives lost at the hands of police, and to prevent further loss of lives at the hands of police," Matt Branch, a community member told the Star Tribune. "The injustices that took place over the last 24 hours were not only heartbreaking, but also calculated and methodical without remorse or consideration for the pain of which our community is collectively experiencing."
Wright, a 20-year-old Black man, was killed after police in Brooklyn Park pulled him over for an expired license tag. Police said that after obtaining Wright's identification during the stop, officers realized he had an outstanding warrant for his arrest.
Body camera video released by the police department on Monday shows while officer attempted to take Wright into custody, he attempted to re-enter his car and there is a struggle between them.
The female officer panic and shouts "Taser! Taser! Taser!" but then instead pulls out a gun and fires a single shot into him. Wright drives off for a short distance, later crashing and dying from the gunshot wound.
"Holy shit, I just shot him," the female officer is heard saying on the video.
"The officer drew their handgun instead of their taser," said Brooklyn Center police chief Tim Gannon.
Gannon said he believed that the officer, now on leave pending an investigation, "had the intention to deploy their taser but instead shot Mr Wright with a single bullet."
"There is nothing I can say to lessen the pain of Mr Wright's family," he added.
The officer that killed Wright by "mistake" has been identified as Kim Potter, a 26-year police veteran.
"A mistake? That doesn't even sound right," Wright's father Aubrey told ABC television, sitting alongside his sobbing wife Katie.
"I can't accept that. I've lost my son. He's never coming back."
"My heart is literally broken into a thousand pieces and I don't know what to do or what to say, but I just need everybody to know that he is much more than this," Wright's mother, Katie Wright, said.
Chyna Whitaker, the mother of Wright's 1-year-old son, lamented that their child will now grow up without his father.
"He just made you feel better when he came around, and I'm just hurt that he's gone, and I can't believe it," Whitaker said. "He loved his son, and it's not fair that his son won't have his dad in his life."
The police killing of Wright prompted former President Barack Obama on Tuesday to stress that the US needed to "reimagine policing and public safety".
The defense attorney for former officer Derek Chauvin, who is facing murder and manslaughter charges for George Floyd's killing, to ask on Monday for the judge presiding over the high-profile case to sequester the jury.