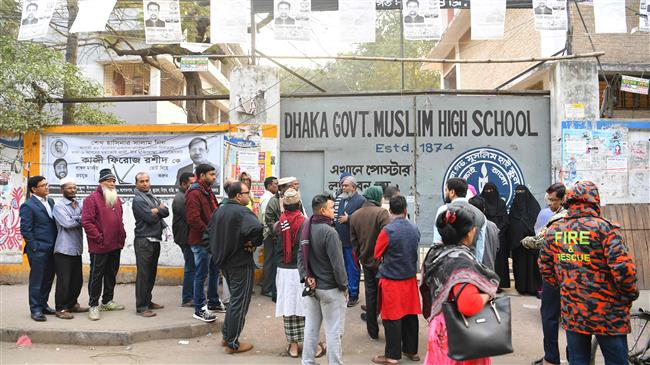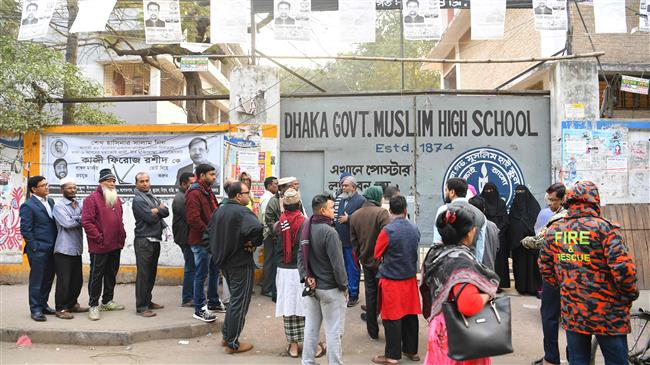 Clashes between the supporters of Bangladesh's ruling party and opposition have left five people dead and nearly a dozen others wounded as the South Asian country votes in general elections already plagued by deadly violence.
Reports by the Bangladeshi media said the clashes broke out in the southeast of the country on Sunday between the campaign workers of the Awami League (AL) Party and its opponents, who are led by the Bangladesh Nationalist Party (BNP) of former Prime Minister Khaleda Zia, amid allegations of vote rigging.
Two men were shot by police, one after he tried to steal a ballot box and the other when opposition activists attempted to storm a polling station in the southern town of Bashkhali. Three others were killed in separate clashes between AL party activists and BNP supporters.
Police said they acted "in self-defense" in the Bashkhali incident.
Polls opened in the Bangladeshi capital of Dhaka and across the South Asian country at 8:00 a.m. local time (02:00 GMT), with around 104 million people being eligible to vote at more than 42,000 polling centers.
A total of 1,841 candidates from the AL and the BNP are vying for 300 seats in the parliament.
The ballots are widely expected to bring a record fourth term to incumbent Prime Minister Sheikh Hasina and her ruling party.
"I believe that people will cast their votes in favor of Awami League to continue the pace of development," Hasina told reporters as she cast her vote in Dhaka.
"The 'boat' will surely win. I believe in democracy and I have confidence in the people of my country," she added, referring to the symbol of her party.
The elections are being held under tight security measures following weeks-long campaigns marred by violence and allegations of a government crackdown on opposition activists.
In the run-up to the vote, 13 people purportedly lost their lives and thousands were injured in skirmishes between the supporters of Hasina and the BNP, whose leader, Zia, is serving 17 years in prison on graft charges. Zia has dismissed the conviction as politically motivated.
Bangladeshi authorities have deployed over 600,000 security personnel, including several thousand soldiers and paramilitary border guards, across the country in a bid to contain possible violence during the general elections, the country's eleventh.
Bangladesh has deployed nearly 600,000 forces to secure a general election on December 30, 2018.
The opposition party claims that thousands of its supporters and activists have been arrested to be prevented from casting their ballots.
The BNP boycotted the last elections, in 2014, claiming it would not be free and fair.
Media reports said internet services would be completely shut down until midnight on Sunday "to prevent the spread of rumors" that could trigger unrest.
The polls will close at 4 p.m. (10:00 GMT) across Bangladesh, and counting will begin soon after the voting ends. The results are expected to be released early on Monday.