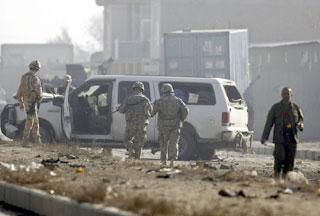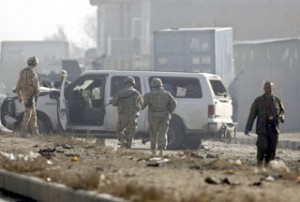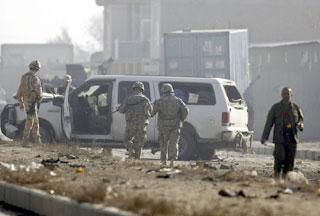 A huge car bomb has targeted foreign soldiers outside a US-run NATO military base in the Afghan capital, shaking Kabul and injuring several troops and Afghan civilians.
The blast took place in the early hours of Friday near Camp Phoenix, the US base on the Kabul-Jalalabad road.
Initial reports said a bomber in a white car struck a coalition forces vehicle on its way to the base, where Afghan forces are trained.
Sources said suspected Taliban militants exchanged heavy fire with the NATO troops and fought a pitched battle following the blast.
"Three foreign soldiers have been injured, they are possibly American," a criminal investigation chief for the Kabul police said.
The official added three civilians were also wounded in the latest attack.
The incident was the latest in a series of bomb attacks on US instillations in Kabul, where militancy has skyrocketed over the past few months.
It has been about three months since US and NATO top commander in Afghanistan Gen. Stanley McChrystal reported to President Barack Obama that the US-led war was headed for failure without the addition of some 40,000 troops.
The president is not expected to announce a final decision for several weeks.
Although more than 100,000 foreign troops are currently fighting Taliban militants in Afghanistan, there has been no sign of stability in the war-torn country.
Thousands of civilians have lost their lives in Afghanistan since the 2001 US-led invasion.