Syria
President Assad assures Syria's war on terror not lost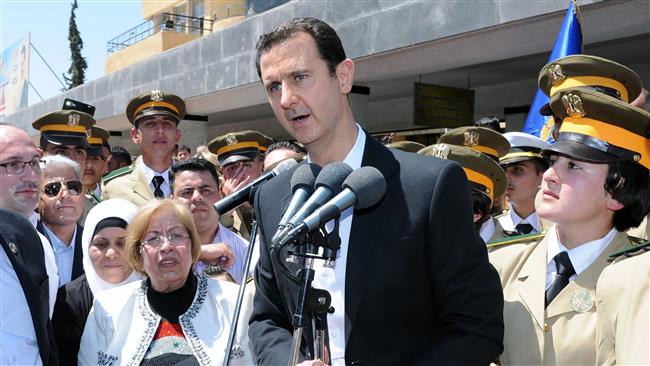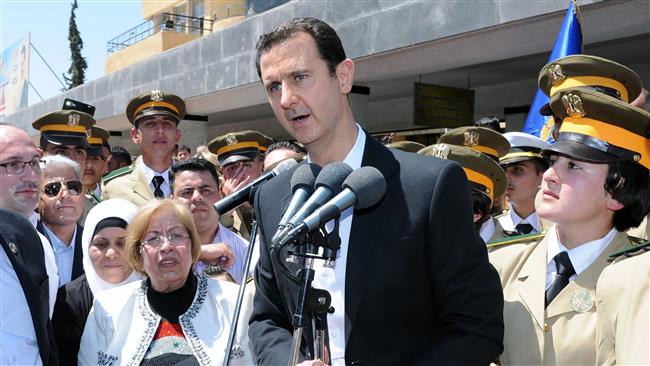 Syrian President Bashar al-Assad says a series of setbacks against the terrorists does not mean the Arab country has lost its war on terror, calling for more confidence in the government in its military campaign.
"Today we are fighting a war, not a battle. War is not one battle, but a series of many battles," Assad said Wednesday in an address to a ceremony held to commemorate Syria's Martyrs' Day in the capital Damascus.
Assad's comments were his first after a string of advances by terrorist groups in the northwestern Idlib Province, where the city of Jisr al-Shughur recently fell into the hands of the militants.
Assad said such setbacks are normal and part of the nature of the war against terrorists.
"We are not talking about tens or hundreds but thousands of battles and… it is the nature of battles for there to be advances and retreats, victories and losses, ups and downs," Assad said, urging the Syrian people to be more vigilant against "the spread of a spirit of frustration or despair at a loss here or there."
The Syrian president called on his people to remain confident in the country's armed forces in the face of the defeats, saying, "In battles… anything can change except for faith in the fighter and the fighter's faith in victory… So when there are setbacks, we must do our duty as a society and give the army morale and not wait for it to give us morale."
A handout picture released by the Syrian Arab News Agency (SANA) on May 6, 2015, shows President Bashar al-Assad (C-L) standing amid the crowd during an appearance at a school in the capital Damascus on Syria's Martyrs' Day. © AFP
Assad also paid tribute to those fighters and army soldiers trapped in a hospital building in Jisr al-Shughur, promising that the armed forces will soon rush to save them.
"The army will arrive soon to these heroes trapped in the Jisr al-Shughur hospital," Assad said.
Elsewhere in his remarks, Assad used the opportunity of the Martyrs' Day to lash out at Turkey's President Recep Tayyip Erdogan for his continued support for the armed militants in Syria. He said Erdogan is a "butcher" whose brutality should be compared to Ahmed Djemal Pasha, the Ottoman ruler who ordered the 1916 executions, the incident which is commemorated on the May 6 event.
More than 220,000 people have been killed in Syria since a foreign-backed militancy broke out against Assad government in 2011.