Palestine
President: Israel Has No Way but to Recognize Palestinians' Rights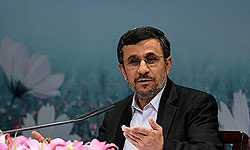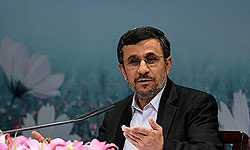 Iranian President Mahmoud Ahmadinejad hailed Palestinian resistance groups' recent victory over Israel, and stressed that Tel Aviv has no option but to recognize the rights of the Palestinian nation, specially after its recent defeat.
"Surely Zionists are on the dead point and have no other alternative but officially recognizing inalienable rights of the Palestinian nation. Under God's grace, we will see liberation of noble Quds," President Ahmadinejad said in a telephone conversation with Secretary-General of Palestinian Islamic Jihad Movement Ramedhan Abdullah on Saturday.
He stressed the necessity for the unity among Palestinian groups, and stated, "The eight-day war showed that if all are united, the biggest goals too can be materialized and accessible."
He thanked Hamas, Islamic Jihad and Egypt for their collaboration that led to recent victory over Israel.
President Ahmadinejad further said hearts of Iranian nation go with the oppressed Palestinian people and the Resistance movement, constantly praying for them.
Abdullah for his part congratulated Iranian nation and Islamic Ummah (community) on the recent victory of the Palestinian Resistance against the Zionist regime and said, "People of Palestine and Gaza are thankful to support of Iranian nation and government, which were influential after God in the big victory."
He said Palestinian nation and resistance will be more confident from now on in campaign against the Zionist regime and in materialization of their goals.