Iran
Middle East
President Rouhani: Low-risk businesses halted over coronavirus to resume Saturday
Iran's President Hassan Rouhani says low-risk economic activities, which have been suspended over the novel coronavirus (COVID-19) pandemic, will resume from April 11.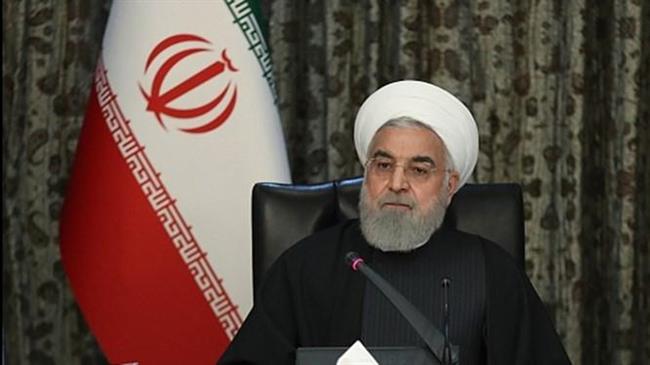 In a Sunday address to the National Headquarters for Managing and Fighting the Coronavirus, Rouhani announced that medium- and low-risk businesses can recommence next week, except those in Tehran Province.
"Regarding low-risk economic activities and the businesses that are not high-risk, it was decided that they resume in the provinces on Saturday, April 11, while observing the protocols announced by Health Ministry," Rouhani noted.
Those activities, he added, will resume in Tehran Province on April 18 under similar health protocols and careful monitoring.
Iran has been among the countries hardest hit by the coronavirus, which first showed up in China in late December 2019 before spreading to other parts of the world.
In addition to the deadly respiratory disease, Iran is dealing with illegal US sanctions which have hampered the country's access to life-saving medical supplies at the current critical time.
Iran to follow up COVID-19 distancing plan with new 'smart distancing' initiative: Rouhani Iranian President Hassan Rouhani says the country seeks to follow up on its existing physical distancing plan with a new 'smart distancing' initiative to curb the outbreak of COVID-19.
Rouhani said two thirds of all Iranian government employees will work out of the office from Saturday and the remaining will be allowed to skip work on a rotational basis.
A person who tests positive for the coronavirus is obliged to inform his manager and put himself under a two-week self-quarantine, he said.
Rouhani's government has refrained from imposing a lockdown on cities but prohibited intercity travel until April 8.
Ministry reports 151 new deaths
A Health Ministry spokesman said on Sunday Iran's death toll from COVID-19 had reached 3,603 among a total of 58,226 infected people.
One hundred and fifty one people have died in the past twenty four hours, Kianush Jahanpur said.
"Fortunately, the recovery process has accelerated and so far 22,011 patients have recovered and been discharged," he added.