Europe
Pro-Russian activists seize Ukraine's Seversk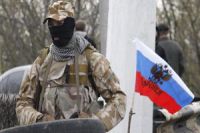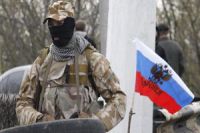 Members of the self-proclaimed People's Republic of Donetsk have taken control of the city of Seversk in Donetsk province in eastern Ukraine.
According to the reports, pro-Russian activists seized the administration and police buildings in the city, Russia media said on Friday.
The Ukrainian flags on the two buildings were reportedly removed and the protesters raised the Russian tricolor.
According to Russian media, local law-enforcement authorities said they would cooperate with the pro-Russian activists, assuring that they would continue working as usual and maintain order in the city.
This comes as pro-Russian activists have already taken control of numerous government buildings in more than a dozen cities in Donetsk and some other places in eastern Ukraine.
The pro-Russian protesters say they will maintain their positions until the interim Kiev government resigns.