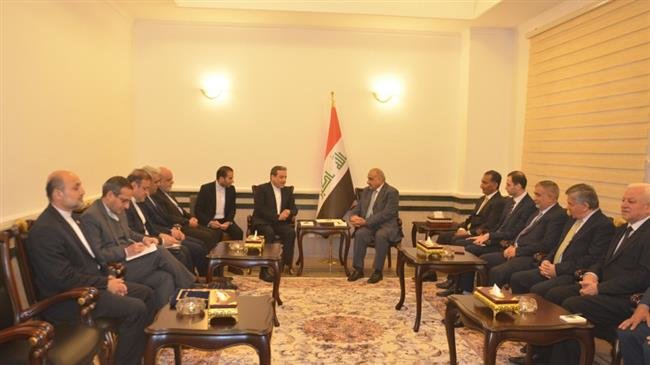 Iraqi Prime Minister Adel Abdul-Mahdi says the promotion of Iran-Iraq relations will serve the interests of the two nations as well as the entire Middle East region.
In a meeting with Iranian Deputy Foreign Minister Abbas Araqchi in Baghdad on Monday, the Iraqi prime minister expressed hope that the exchange of visits between the two countries' officials would be a turning point in efforts to promote bilateral relations and resolve mutual issues.
He also underlined the importance of strengthening bilateral cooperation in political and economic areas, saying that Iraq is ready to establish a joint industrial zone with Iran.
Araqchi, for his part, expressed hope that a planned visit by Iranian President Hassan Rouhani to Baghdad would lead to further expansion of trade and economic relations between the two countries.
During the meeting, which was also attended by Iranian Ambassador to Baghdad Iraj Masjedi, the two sides discussed the details of President Rouhani's upcoming visit to Iraq.
Araqchi and Abdul-Mahdi also underscored the significance of reaching a clear and fair understanding in different issues, including with regards to economic and trade cooperation as well as the visa regime in line with the two countries' interests.
The Iranian diplomat arrived in Baghdad on Monday to take part in a new session of the Iran-Iraq joint political commission.
Araqchi's trip to Iraq comes after a last month's visit by Iranian Foreign Minister Mohammad Javad Zarif to the neighboring country.