Europe
Protesters decry Ukraine opposition leader beating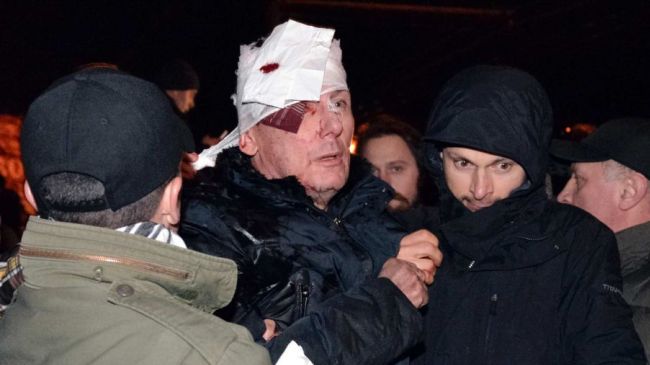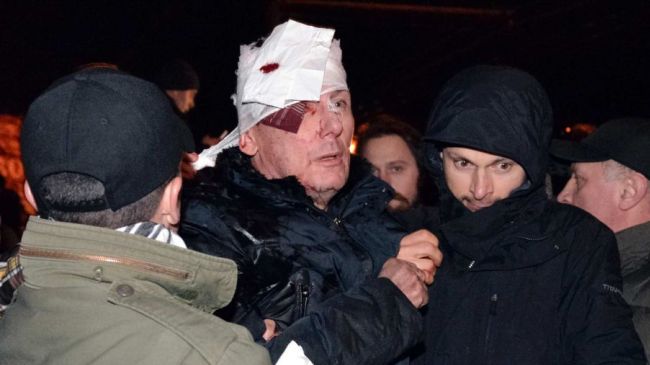 Anti-government protesters in Ukraine have staged in a rally in protest against the beating and hospitalization of leading opposition figure and former interior minister Yuriy Lutsenko.
On Saturday, the demonstrators took to the streets in the capital Kiev to express their anger over the alleged assault by riot police on Lutsenko.
Yuriy Lutsenko has been hospitalized after being beaten in fresh clashes between anti-government protesters and the police in the capital Kiev.
Lutsenko's wife, Irina, said her husband was injured late on Friday when a few hundred nationalist demonstrators staged a rally outside a Kiev court in protest against the six-year prison terms handed down to three men for planning an attack near Kiev's main airport in 2011.
As the protesters blockaded buses with members of the Berkut riot police force on board, Lutsenko tried to break up the unfolding violence.
However, he was attacked by police and suffered a concussion and head injuries.
"They smashed the glasses on his face. He fell and fainted, and only then did they stop beating him." Irina Lutsenko said.
She added that he husband had suffered about 10 truncheon blows.
"He has been placed in intensive care. They are going to keep him under observation," Lutsenko's wife noted.
Vitaly Klitschko, a former professional boxer and leader of the opposition political party, Ukrainian Democratic Alliance for Reform, said the incident should finally prompt the European Union (EU) to impose personal sanctions against the high-ranking officials of the Eastern European country.
"The issue of personal sanctions is more relevant now than ever before. We now understand that [President Viktor] Yanukovych regime will stop at nothing," he said in a statement.
Ukraine has been rocked with anti-government protests after Yanukovych refrained from signing a trade agreement with the EU at the third Eastern Partnership Summit in the Lithuanian capital, Vilnius, in November 2013.
On December 17, 2013, Russia and Ukraine reached a strategic economic and trade agreement under which Kiev is given significant discounts on imported Russian gas and billions of dollars in credit.
Under the deal, Moscow will buy $15 billion worth of Ukrainian government bonds from the National Welfare Fund. Moscow will also reduce the price of gas sold to Ukraine by about one-third and improve work conditions for Ukrainians working in Russia.