North America
Protesters in New York rally against Trump's racist policies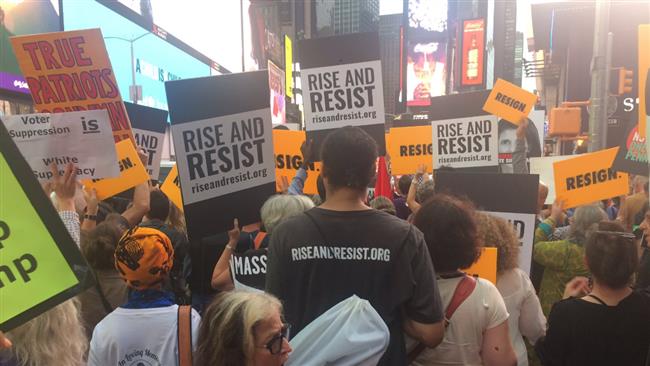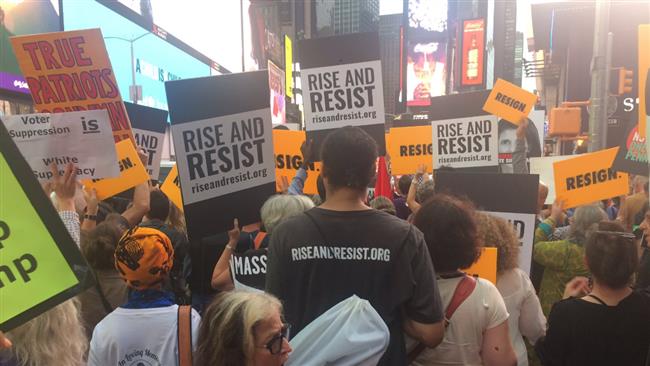 Hundreds of protesters have staged a rally in New York to denounce Trump's racist policies.
The protest was organized by the Rise and Resist group on Monday ahead of Trump's visit to the city to attend the United Nations General Assembly meeting.
The protesters condemned Trump's presidency as a travesty of a white supremacist trying to establish a dictatorship in the United States.
They also shouted slogans against Trump's racist and divisive policies against immigrants and minorities.
Police clashed with the demonstrators and arrested a number of them as they left the terminal toward the Times Square.
Trump's anti-immigrant and anti-Muslim stance has also stirred controversy and chaos at home and abroad.
A majority of Americans think Trump is doing more to divide the country and believe hate crimes have dramatically increased since his election, polls have found.
Since Trump's election, "the level of hatred and prejudice in the US has increased," 65 percent of voters say.
Trump has been widely criticized for his response to the last month white supremacist rally in Charlottesville, Virginia, where one counter-protester was killed and 19 others were injured. After the rally, Trump had said "both sides" were to blame for the violence.
UN human rights experts have urged the US government to "unequivocally and unconditionally" condemn racist speech and hate crimes, warning that a failure to do so could fuel further violent clashes by white supremacist groups.