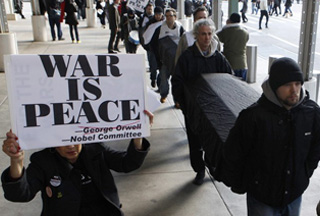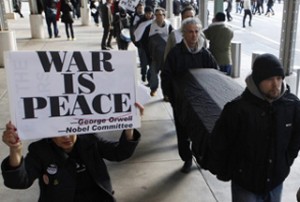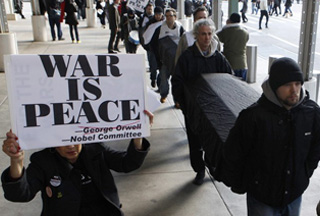 Peace activists have carried mock coffins through New York City to protest against President Barack Obama's receiving of the Nobel Peace Prize.
On Thursday, about 50 demonstrators walked from outside the United Nations to the military recruiting office on Times Square in central Manhattan.
Walking to a slow drumbeat, they carried black cardboard coffins, the first of which was draped in the US flag.
Earlier on Thursday, during a Nobel peace ceremony in Oslo City Hall, President Barack Obama had warned that he would not hesitate to wage war if it was "morally justified."
Meanwhile, several thousand people marched through Oslo to denounce nuclear weapons and the war in Afghanistan.
Also on Thursday, as President Obama was receiving his Nobel Peace Prize, the Pentagon's top military officer announced that 16,000 US troops have received their orders for Afghanistan.
Adm. Mike Mullen said at a news conference that the first to go — a battalion of Marines — will arrive in southern Afghanistan next week.
Officials are moving to get the bulk of the 30,000 additional troops into the war zone by summer.