Latin America
Protesters set fire to Guatemala's Congress in protests over budget cuts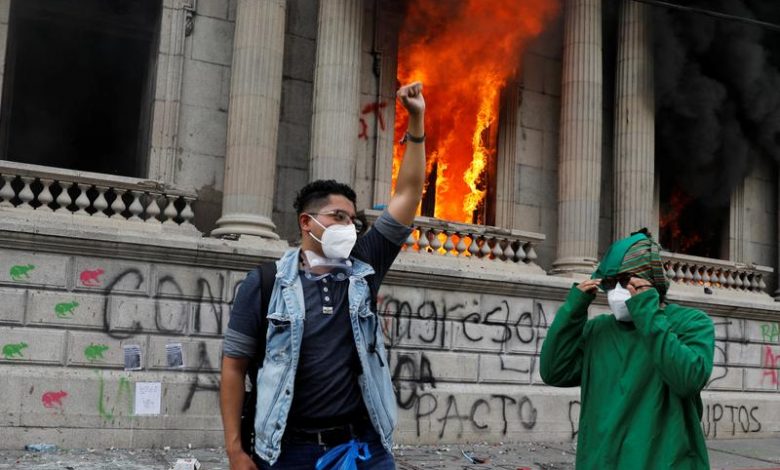 Thousands of Guatemalans have taken to the streets in the capital, setting fire to the congressional building in a show of anger over recent budget cuts.
The protesters, who demanded President Alejandro Giammattei resign, burned part of the legislative building in Guatemala City on Saturday. Some 50 people were injured in the incident.
A spokesman for the Red Cross told journalists the medics had treated several victims for smoke inhalation. Police arrested more than 20 people.
Not far from Congress, a larger group of protesters marched in front of the old government palace in the historic center of the capital, also urging the president to resign.
The protesters held the national flag and banners that read, "No more corruption" and "Giammattei out."
"They messed with the wrong generation," read another banner.
On Wednesday, Congress passed a $12.9 billion budget bill that cut spending on education and health but bolstered lawmakers' meal stipends, sparking public outrage.
A group of protesters, including students and businesses owners, called for Giammattei to veto the budget for 2021.
"Congress allocated more money for their meals and didn't allocate money to the poor people," said Diego Herrera, a 25 year old student.
The budget cuts reflected an increase of public debt in a country where poverty is widespread and half of children under five are malnourished. The nation is still recovering from two back-to-back hurricanes that displaced thousands of people and destroyed critical infrastructure.
Giammattei's own cabinet has also grown frustrated with his leadership.
On Friday, Vice President Guillermo Castillo called on the president to join him in a joint resignation.
"For the good of the country, I asked him that we present our resignations together," he said in a message posted on social media.
Giammattei has not responded to Castillo's comments. Instead he vowed legal repercussions for those who engage in "violent acts."
"I reiterate that you have the right to demonstrate according to the law. But we cannot allow vandalism of public or private property," he tweeted. "Whoever is proven to have participated in these criminal acts will fall under the full weight of the law," he said.
Giammattei, a 64-year-old doctor, swept to power in January promising to clean up corruption and fight organized crime.