North America
Protests continue in California against police brutality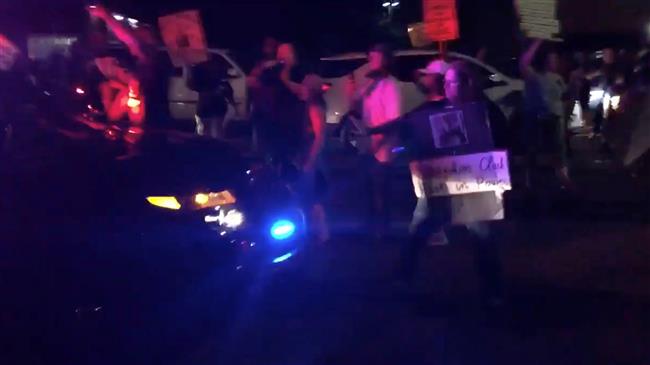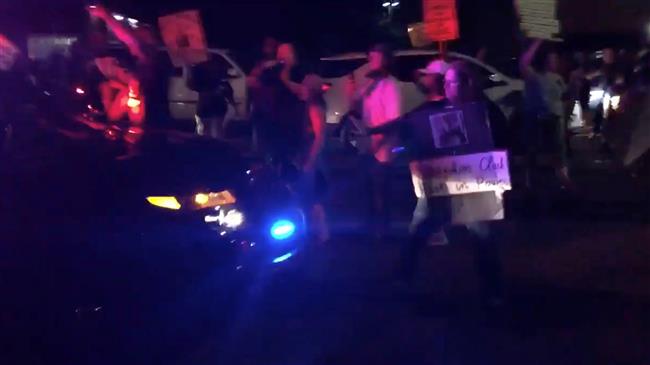 Hundreds of Americans have again held a demonstration in Sacramento, California to protest the fatal police shooting of an unarmed African-American man.  
Protesters marched on Sunday night in Sacramento in the latest of nearly two weeks of mostly peaceful rallies since Stephon Clark was gunned down in his grandmother's yard on March 18.
The angry demonstrators were chanting slogans against police brutality and some of them were shouting at police officers with their fists in the air.
Protester Andre St. John, who said he came to help control any further violence from breaking out, pointed to a line of police and said, "Does it look like they're playing? Does it look like they're playing? No."
Tensions were further heightened after a sheriff's patrol car struck a protester.
"I saw a vehicle essentially strike a protester. It was looking like she was trying to get out of the way. And a vehicle, the Sheriff's deputy was stopped, and accelerated forward violently, as the video shows, and struck her and I called 911 (emergency services) because of the force with which she got struck. And then patrol vehicles after striking her, loud, everyone heard it, they just sped off," said Guy Danilowitz, a legal observer for the national lawyers guild.
Clark, 22, was gunned down by police in his grandmother's yard. He was the latest unarmed black man to fall victim to the police use of deadly force.
The killings of African Americans by US police have triggered street protests across the country and sparked controversy about bias in the country's criminal justice system.
An autopsy on Clark on Friday contradicted the police account of the fatal shooting.
The autopsy shows that all eight bullets hit Clark in the back, side or leg, Benjamin Crump, an attorney for the victim's family, said on Friday.
The findings also refuted statements by police that Clark had been moving toward officers when they fired on March 18.