North America
Protests over Black man's killing continue for fifth night in Minneapolis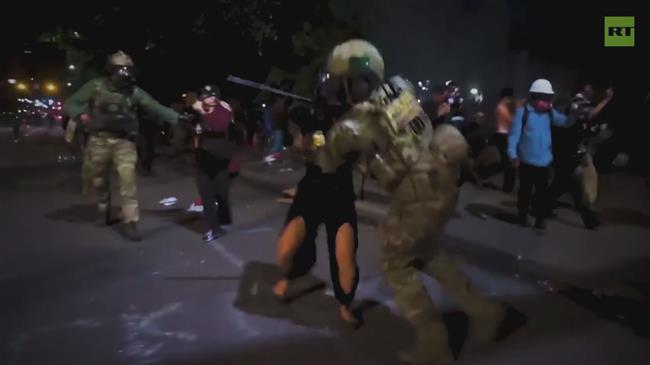 The death of Daunte Wright, a 20-year-old Black man who was fatally shot by a white police officer in a Minneapolis suburb on Sunday, has given fresh impetus to the Black Lives Matter movement in the US.
Protests over the cold-blooded murder continued for the fifth night on Thursday despite a 10 p.m. curfew announced by the Brooklyn Center Mayor Mike Elliott.
Hundreds of protestors, carrying umbrellas as a shield, assembled outside the Brooklyn Center Police Department in Minnesota on Thursday night, raising evocative slogans against the police and growing incidents of racist violence in the country.
Police officers remained on alert with canisters of tear gas and additional set of fences and barriers to prevent protestors from coming close to the police department building.
The protestors projected a large billboard reading 'Black Lives Matter' outside an apartment building in the vicinity of the police station.
Protests continue unabated in Minneapolis and beyond since Sunday when Wright was shot about 10 miles from where African-American George Floyd was killed by police last May.
Shock and grief over the heinous murder spread to different parts of the country after Brooklyn Center officials held a presser showing body camera footage of the incident, in which a lady officer is heard yelling "Taser!" as she shot Wright with her handgun. Seconds later, she said, "Holy shit, I just shot him."
In a television interview after the incident, Daunte's father Aubrey Wright said he did not accept the police chief's explanation of events.
"I lost my son. He's never coming back. I can't accept that. A mistake?" he said. "This officer has been on the force for 26 years? I can't accept that."
"It's not about training, it's about implicit bias," said Benjamin Crump, the lawyer for the Wright family, in the same interview. "It's about giving the same respect and consideration to people of color that we give to white American citizens."
Protests have swept across the country despite strong arm tactics used by the police to quell them. Earlier this week, police used indiscriminate force and tear gas to quell protests, but could not deter them from taking to streets in subsequent days and nights.
On Tuesday night, more than 70 people were taken into custody in Minneapolis after heavy police contingent was deployed to crush the simmering protests.
Protesters and Wright's family have demanded that more serious charges be brought against white police officer Kim Potter, who has been charged with second-degree manslaughter.
The killing of Wright, which has triggered angry protests in the US, is the third killing of a Black man at the hands of the police in Minneapolis area in past five years.
Thursday night's protests were also motivated by the killing of 13-year-old Adam Toledo nearly 400 miles away in Chicago at the hands of a police officer.
Chicago officials on Thursday released footage from body-worn cameras that showed the shooting by the police last month even as the teenage boy had dropped a gun and raised his empty hands.
The release of a disturbing video also prompted protests in Chicago with people gathering in the alley where the seventh-grader was shot, lighting candles and placing flowers at a small roadside memorial.
Mayor Lori Lightfoot of Chicago called for "calm and, importantly, peace" on Thursday while describing what she called an "excruciating" video of Adam Toledo being shot by a police officer.
Violent attacks on people of color in the US have witnessed a disconcerting surge in recent years, which activists have attributed to former US President Donald Trump's racist rhetoric.
While Floyd's killing last year brought the issue back into focus, becoming an emblem of the Black Lives Matter movement, it has not stopped trigger-happy cops from unleashing terror on hapless minorities, including African-Americans and Asian-Americans.
In an interview with Press TV this week, US-based journalist and political analyst Dr. Abayomi Azikwe said the surge in violence against people of color in the US is a systemic problem rooted in the legacy of slavery and legalized segregation in the country
Commenting on protests in the wake of Wright's killing at a traffic stop on Sunday, he said these "social dynamics will continue to unfold in 2021."