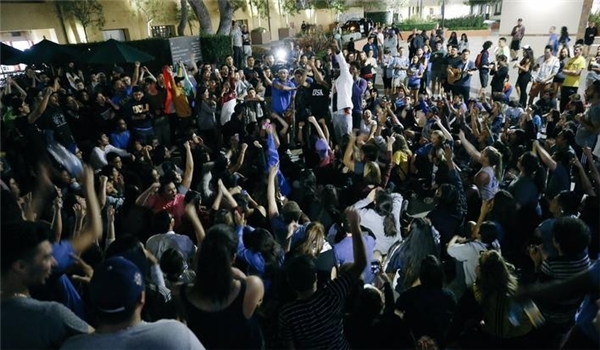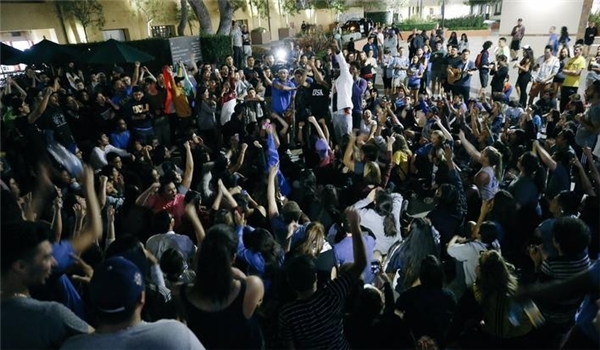 After the announcement came across the news wires that Donald Trump was going to be the 45th President of the United States, college campuses and urban areas started seeing protests break out from coast to coast.
Cities across the country seeing protesters include Los Angeles, the Oakland area around the Bay, Eugene and Portland, Oregon, Seattle Washington, and even a peaceful student protest back east in Pittsburgh, Pennsylvania, 12 News Now reported.
In Pennsylvania, hundreds of University of Pittsburgh students marched through the streets, with some in the crowd calling for unity. The student-run campus newspaper, the Pitt News, tweeted about an event later Wednesday titled "Emergency Meeting: Let's Unite to Stop President Trump."
Smaller demonstrators were held at University of California campuses and neighborhoods in Berkeley, Irvine and Davis and at San Jose State.
In Oakland, more than 100 protesters took to downtown streets. KNTV-TV reported that protesters burned Trump in effigy, smashed windows of the Oakland Tribune newsroom and set tires and trash on fire.
The California Highway Patrol says a woman was struck by a car during the protest and severely injured.
In Oregon, dozens of people blocked traffic in downtown Portland and forced a delay for trains on two light rail lines. Media reports say the crowd grew to about 300 people, including some who sat in the middle of the road to block traffic. The crowd of anti-Trump protesters burned American flags and chanted "That's not my president."
In Seattle, a group of about 100 protesters gathered in the Capital Hill neighborhood, blocked roads and set a trash bin on fire.