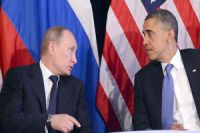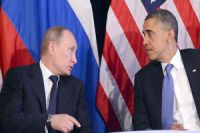 A Kremlin official says the presidents of Russia and the United States may exchange views about the crisis in Syria on the sidelines of the Asia-Pacific Economic Cooperation (APEC) summit in Indonesia next week.
Yuri Ushakov, Putin's top foreign policy adviser, said on Thursday that Russian and US officials are preparing the arrangements of a meeting between Vladimir Putin and Barack Obama in Bali Island on October 7. According to Ushakov, the planned meeting was proposed by the Russian side.
In September, the two presidents also held brief talks over the Syrian issue on the sidelines of the G20 summit in the Russian city of St. Petersburg. Putin said following the talks that the two sides "agreed to disagree, but there is a dialogue."
Moscow and Washington have long been at odds over the foreign-sponsored crisis that broke out in Syria in March 2011. While Russia remains a supporter of the Syrian government, the US and its allies continue to support Takfiri groups operating inside the Arab state.
On May 7, Russia and the US also agreed to convene an international conference on Syria, which will serve as a follow-up to an earlier Geneva meeting held in June 2012. The meeting, known as Geneva 2, is reportedly expected to be held before the end of this year.