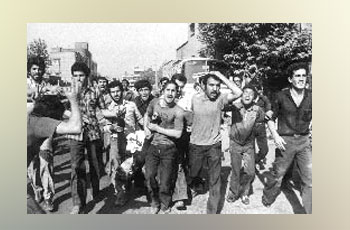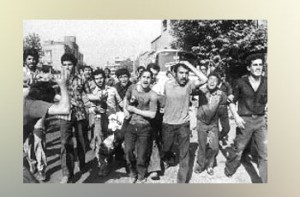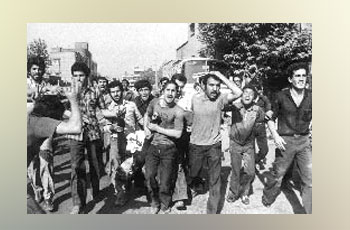 On Day 17, 1356 Ettelaat newspaper published an editorial under the title "Black and red reactionism in Iran" insulting the Leader of popular Iranian movement against despotism and colonialism Ayatollah Sayyed Ruhollah Khomeini (PBUH) by calling the Imam a foreign agent and a corrupt man.
That led to widespread protests in the holy city of Qom, culminating in the 19 Dey 1356 (9 January 1977) uprising, in which a number of people, including seminary students were martyred.
The 3rd-, 7th-, and 40th-day mourning ceremonies of the Qom martyrs generated newer uprisings in the cities of Tabriz, Yazd, Jahrom, Shiraz, Esfahan and Tehran.
During the period, the Imam's messages and recorded tapes of his speeches — in which he urged the people to keep up the fight until the overthrow of the monarchy and the establishment of an Islamic government — were reproduced and distributed by his supporters everywhere in the country.
The Shah, in spite of mass killings, could not put out the lighted flames. The political maneuvers and ruses of the Shah were neutralized, before they could affect the people's anger, by the revealing statements of the Imam and his instructions as how to carry on the challenge.
Replacement of Hoveyda, the then prime minister who held the post for 13 years, by a Westernized technocrat, Jamshid Amoozegar, neither helped solve any problem nor diminished the crises.
Ja'far Sharif-Emami, a precursor of the freemasonry colonial movement in Iran, came to power with the slogan of "National Reconciliation Government." His deceptive moves and his talks in Qom could not halt the people's fight.
It was during Sharif-Emami's turn at the helm that ruthless butchering of innocent people took place by the military forces at Meydan-e Shohada (Martyrs' Square, formerly Jaleh Square) on 17th of Shahrivar, seven months after the Qom uprising.
Martial law was officially declared for an indefinite period in Tehran and 11 other large cities. However, receiving the Imam's instructions, people refused to heed the martial law rules and extended their day-and-night demonstrations.
The national movement got victory five months later when Shah fled Iran and Imam Khomeini returned from a 15 year exile.
The Qom uprising then is considered as a turning point in the history of Islamic Revolution of Iran by lighting the first loop of a chain of local uprisings which led to the establishment of Islamic Republic.