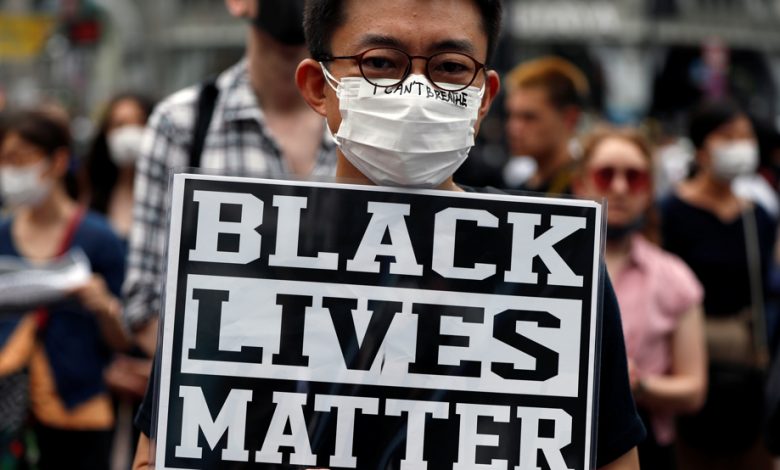 Rallies have been held in countries around the world in solidarity with the "Black Lives Matter" protest movement against racial discrimination in the United States.
The protest movement in the US gained new momentum following the death of African-American George Floyd in US police custody in Minneapolis on May 25. The 46-year-old died after a white officer pressed his knee on his neck for nearly nine minutes until he suffocated.
Tens of thousands of Americans have since been holding demonstrations across the United States to protest his death as well as police brutality and racial discrimination against people of color in general.
People in other countries have also risen up to support the US protesters.
The German city of Hamburg on Saturday was the scene of mass rallies in support of the anti-racism protests in the United States, with thousands turning out in the city center and holding banners that read, "Together we stand," and "No justice, no peace."
Nearly 9,000 people attended another protest at Jungfernstieg promenade along the bank of the Alster River in Hamburg despite bans imposed by the police.
"We want to create awareness for people to know that we want to fight racism, being black or white, we just want to set a statement that racism can only be fought only if we come together," said Audrey Boateng, a protest organizer.
Pepper spray in Hamburg
Media reports said German police in Hamburg used pepper spray on protesters and deployed water cannons to disperse demonstrators as their numbers exponentially increased over time.
Labeling the demonstrations as "unauthorized," Hamburg police claimed that they were compelled to use disproportionate force as several hundred "hooded and aggressive people" had put police officers under pressure in the city center.
'Enough is enough!'
Wearing black, several hundred people gathered outside the US Embassy in Jamaica's capital, Kingston, on Saturday to express their support for the US protesters.
Demanding justice for Floyd, the protesters held signs that read, "Black Lives Matter," and "Enough is enough."
The anti-racism demonstration in Kingston was peaceful, according to witnesses, and police mostly stood by as protesters voiced their concerns.
Kurdish case becomes rallying cry for Japan protest
Elsewhere, in Japan, the case of a Kurdish man who says he was stopped and shoved to the ground by Tokyo police became a rallying cry for protesters marching in solidarity with the Black Lives Matter movement on Saturday.
Cursing police and chanting "I can't breathe" to echo Floyd's last words, several hundred people marched through the trendy Shibuya district in Tokyo and condemned the police abuse.
The 33-year-old Turkish man of Kurdish origin, who asked not to be named, told Reuters this week that he was stopped by police in downtown Tokyo three days before Floyd's death and, when he declined to allow police to search his car, two officers shouted at him and shoved him to the ground. A friend in his car filmed part of the incident.
One of the officers can be seen kicking the man in the leg before making him crouch on the ground. That officer can be seen with his arms around the man's neck, yelling at him to be quiet.
Mexican governor apologizes for police abuses
The governor of a Mexican state that was recently the scene of clashes between security forces and demonstrators over the death of a man in police custody apologized on Saturday for abuses perpetrated by police during the public protests.
Enrique Alfaro, governor of the western Mexican region of Jalisco, said he was appalled that police had on Friday beaten some participants in a demonstration over the death of Giovanni Lopez.
Floyd's brutal murder in the United States helped drive demonstrations over the fate of Lopez, who lost his life in police custody after he was reportedly detained by municipal officers last month for disregarding coronavirus-related health protocols.
"It embarrasses me, it distresses me, it greatly pains me as a man from Jalisco, and as governor," Alfaro said in a video posted on Twitter.
Alfaro also announced that he had decided to release without charge the detained protesters outraged by Lopez's death.
Canadian police beat indigenous chief over expired license plate
Separately on Saturday, an indigenous chief in Canada said police forces beat him in March after an incident involving an expired license plate on his truck.
Allan Adam, speaking in Fort McMurray in Alberta, said the Royal Canadian Mounted Police (RCMP) approached his parked truck on March 10 as he and his wife prepared to leave a recreational center in the city.
After police refused to answer why they had pulled up, the couple began to drive away, before an officer ordered them to stop and pulled Adam's wife from the driver's seat, Adam said.
He then intervened. An officer grabbed his arm while a second one knocked him down and punched him, Adam said.
Adam's lawyer has called for police to release their video and suspend the officers.
The chief is due in court on July 2, charged with resisting arrest and assaulting police.
"We are a minority and nobody speaks up for us," Adam said.
Indigenous people have expressed outrage at two other incidents involving Canadian police this week, including the fatal shooting of a young Indigenous woman.
Chantel Moore, 26, was shot dead on Thursday by a police officer in Edmundston, in the eastern Canadian province of New Brunswick.
Edmundston police claimed that the woman had threatened the officer with a knife. According to her family, the officer fired five times to subdue her.
The Congress of Aboriginal People (CPA), one of the five national groups representing indigenous Canadians, called for "a public investigation into the death of Chantel Moore and the ongoing systemic bias and racism that policing services and the justice system displays towards Indigenous peoples."
Canadian Prime Minister Justin Trudeau censured racial discrimination in his country before participating in a demonstration in Ottawa against racism and police violence following Floyd's death.
All the protests are taking place during the coronavirus pandemic, often in countries where governments have banned large assemblies.
Hong Kongers protest US police violence
Also on Sunday, dozens of people in Hong Kong gathered in front of the US Consulate to protest the death of Floyd at the hands of police in Minneapolis.
The protesters were mainly international students and members of Hong Kong's League of Social Democrats, which is a political advocacy group for human rights.
"It's important to get our message across to others around the world, to remind them that even though we are far away, we are with them 100 percent in spirit — Black Lives Matter," said Quinland Anderson, a 28-year-old protester.
The protesters left peacefully after reading a speech in condemnation of police brutality and racism.