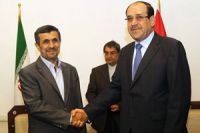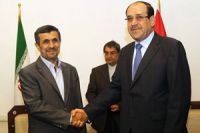 Iran's President Mahmoud Ahmadinejad says the Islamic Republic sees no limits to the expansion of all-out ties with neighboring Iraq, adding that the bilateral ties are crucial to stability and prosperity of the region.
According to Press TV, Ahmadinejad said in a meeting with Iraqi Prime Minister Nouri al-Maliki in Baghdad on Thursday Tehran and Baghdad plan to further develop their already close cooperation in the fields of engineering services, energy and electricity.
The Iranian president added "Today, everyone is convinced that regional progress and security hinge on cooperation and joint efforts by Iran and Iraq."
He added regional and international developments in recent years have provided an opportunity for both Iran and Iraq to bolster cooperation in all arenas.
For his part, the Iraqi premier said his country seeks to boost ties with all friendly countries in the region, including Iran.
Maliki added that Tehran and Baghdad enjoy numerous commonalities, saying that Iraq is not bound by any confines in promoting cooperation with Iran, particularly in the energy and electricity sectors.
Meanwhile, in a separate meeting with Iraqi Vice-President Khazir al-Khazai, the Iranian president also said the enhancement of mutual ties would serve the interests of the nations in the region and the entire Muslim world as well as the Iranian and Iraqi people.
Ahmadinejad stated "Whenever the Iranian and Iraqi nations stood by each other, no foreign power could damage their relations."
For his part, the Iraqi vice-president said Tehran and Baghdad have common ground in a whole range of areas and can play a leading role in the region and the world.
He expressed hope that the Iranian president's visit to Baghdad would further strengthen solidarity and unity between the two countries.