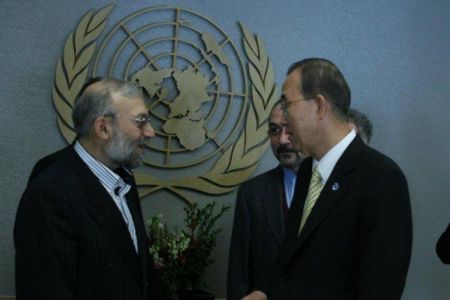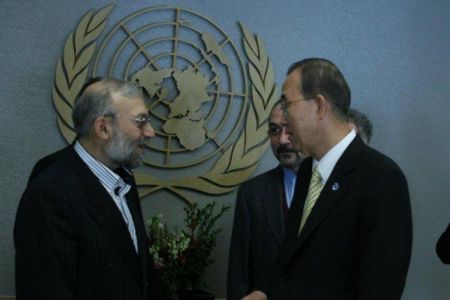 The secretary general of Iran's High Council for Human Rights has told UN Secretary General Ban Ki-moon that the most recent Western-sponsored UN resolution against Iran is illegal.
During a meeting with Ban Ki-moon in New York on Friday, Mohammad Javad Larijani criticized the West for pushing through a resolution at the UN General Assembly's Third Committee that accuses Iran of human rights violations, saying the move is unjustified.
He noted that the resolution is part of a plot by the United States meant to derail Iran's constructive interaction with the United Nations, adding that it puts the status of the UN Human Rights Council into question.
It is also a politicized move not related to human rights issues, Larijani added.
Ban Ki-moon praised Iran for its positive interaction with the UN Human Rights Council's Universal Periodic Review (UPR) mechanism and called for increased cooperation with the UNHRC.
The UPR is a mechanism which started in April 2008 and consists of a review of the human rights practices in all countries once every four years.
The two also discussed intergovernmental processes dealing with human rights in Iran, such as the Human Rights Council's recent Universal Peer Review and human rights practices in the country.
They also exchanged views on specific human rights issues in Iran, as well as the operation of Iran's human rights mechanisms.
The UN secretary general said that Iran is engaged in constructive cooperation with the UN and welcomed Iran's decision to invite the High Commissioner for Human Rights to visit the country in 2011.
The resolution against Iran was passed, even though over 110 countries refrained to vote in favor of it. Eighty countries voted for the resolution and there were 44 nays and 57 abstentions.
The draft resolution was sponsored by the United States, the European Union, Canada, and other Western countries.
Many countries and international organizations have criticized Western countries for their double standards on human rights and their politicization of rights issues at the United Nations.
The 118-member Non-Aligned Movement and the 57-member Organization of the Islamic Conference condemned the resolution against Iran.