Iran
North America
Palestine
RIDICULOUS: Zionist Trump forgets huge masses of nuclear weapons in US, accuses Iran of seeking to develop nuclear weapons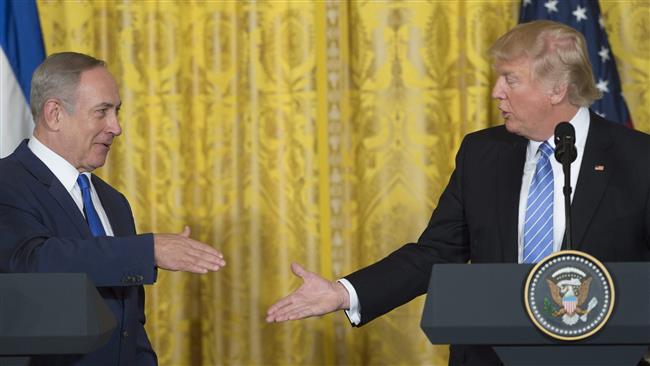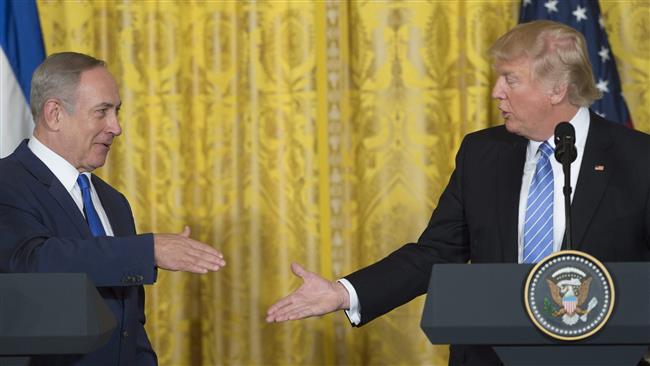 US President Donald Trump has once again accused Iran of seeking to develop nuclear weapons, arguing that he would prevent Tehran from ever gaining nukes.
"I will do more to prevent Iran from ever developing, I mean ever, a nuclear weapon," Trump said on Wednesday during a joint press conference with Israeli Prime Minister Benjamin Netanyahu at the White House.
He also called Iran's atomic program a threat to Israel, which is believed to possess the only nuclear arsenal in the Middle East.
"The security challenges faced by Israel are enormous, including the threat of Iran's nuclear ambitions, which I've talked a lot about," he said.
Trump's anti-Iran rhetoric comes as the longstanding Western dispute over Tehran's nuclear program was settled after the conclusion of a landmark nuclear agreement in 2015. UN Security Council Resolution 2231 also endorsed the nuclear deal, which went into effect in January 2016.
The International Atomic Energy Agency (IAEA) has also confirmed Iran's commitment to the terms of the nuclear agreement, dubbed the Joint Comprehensive Plan of Action (JCPOA).
Read more:
Trump also called the landmark nuclear agreement with Iran as "one of the worst deals I've ever seen," saying that his administration has already introduced fresh sanctions against Tehran over its missile tests.
Iran and the five permanent members of the United Nations Security Council — the United States, France, Britain, Russia and China — plus Germany started implementing the JCPOA on January 16, 2016.
The deal limited parts of Iran's peaceful nuclear program in exchange for the complete removal of all sanctions against the country.
Earlier this month, however, Trump undermined the multilateral deal by introducing a new round of sanctions against Iran following the country's successful test-launch of a ballistic missile, which Washington said was a breach of the JCPOA. Iran rejected the US claim, reiterating the right to develop its defense capabilities.
Israel welcomed the sanctions, calling on the US and its allies to form a "united front" against Iran to ensure Israel's security.
Underscoring Washington and Tel Aviv's "unbreakable" bond, Trump promised Netanyahu that his country was committed to Israel's security.
Netanyahu traveled to Washington on Wednesday for talks with Trump and an opportunity to improve US-Israeli ties after a frequently combative relationship with Trump's Democratic predecessor, Barack Obama.
"With this visit the United States, again, reaffirms our unbreakable bond with our cherished ally, Israel," Trump said.
The United States and Israel agreed in September on a record new package of at least $38 billion in US military aid over a 10 year period.
Israel is the largest cumulative recipient of US foreign assistance since World War II. America's military assistance to Israel has amounted to $124.3 billion since it began in 1962, according to a US congressional report last year.