North America
Riot declared in Portland, amid new wave of anti-Trump protests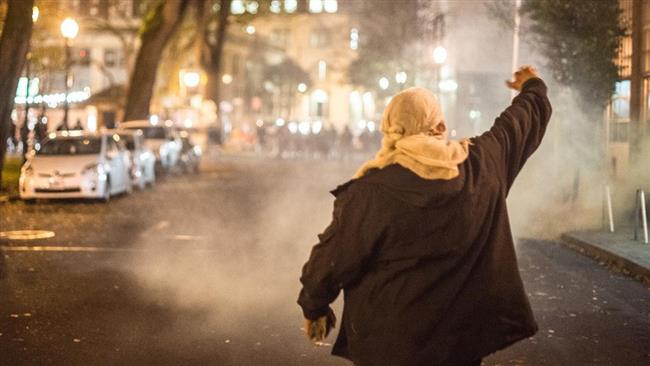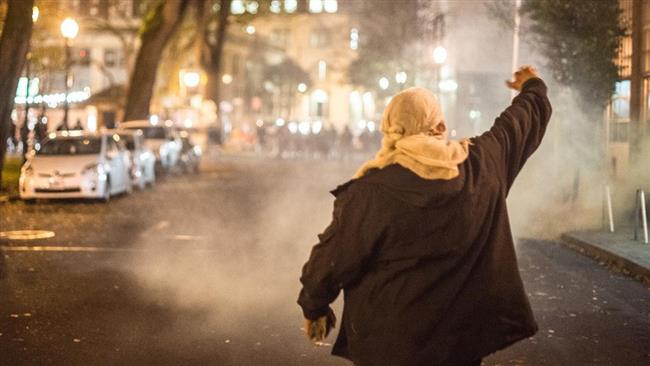 The second day of nationwide protests against US President-elect Donald Trump has come to its climax in Portland, Oregon, where police clash with angry demonstrators.
The demonstration in Portland turned violent on Thursday night as several thousand demonstrators took to the streets in the western city.
Store and car windows were smashed and police declared the protest a riot, citing "extensive criminal and dangerous behavior." Protesters threw firecrackers and a large rubbish bin was set alight.
Police used flash bangs and fired tear gas to disperse Portland protesters who threw objects at them. A number of protesters have also been arrested in the process.
Trump took to twitter on Thursday night to hit back at protesters, calling them "professionals incited by the media." Trump supporters say the protesters are not respecting the democratic process.
This tweet also comes after The New York Times reported his aides took control of his Twitter account during his presidential campaign hoping to tame his controversial Internet presence.
Earlier in the day, demonstrators took to the streets in cities across the United States to protest against Trump's victory in the November 8 presidential election, voicing concerns that he will strike a blow against civil rights.
In the state of California, hundreds of high school and university students on Thursday walked out of classes to join other protesters who held demonstrations in the cities of Los Angeles and San Francisco.
Police arrested dozens of protesters in both cities. Similar rallies were held in Minneapolis, New York, Washington, DC, and Texas.
A number of demonstrators marched from the White House, where Trump held his first transition meeting with President Barack Obama on Thursday, to the Trump International Hotel some blocks away.
The protesters were carrying signs against racism and in favor of unity. They were also chanting "love Trumps hate."
"This generation deserves better than Donald Trump," said Lily Morton, 17, who joined classmates from the Georgetown Day School. "The queer people, colored people, women, girls, everyone that is going to be affected by this, we need to protest to help them."
Tens of thousands of protesters, including school and college students, held demonstrations in more than a dozen major US cities, including in New York, Los Angeles and Oakland, California on Wednesday.
The protesters slammed Trump's controversial campaign rhetoric about undocumented immigrants, Muslims and other groups.
Trump stunned the world on Wednesday by defeating heavily favored Democratic candidate Hillary Clinton in Tuesday's presidential election, sending the United States on a new, uncertain path.
Trump's election campaign had been marred by his disparaging remarks against minorities in the US. His comments include a call to ban all Muslims from coming to America as well as stopping Mexican migrants by building a long wall along the US-Mexico border.
He has also sought for a database to track Muslims across the United States and said that the US would have "absolutely no choice" but to close down mosques.
Trump's proposal was widely condemned by Muslim and human rights groups as well as his Democratic rivals and many of his Republican proponents who describe the proposal as divisive, counterproductive and contrary to American values.