Iran
Iraq
Middle East
North America
Qasem Suleimani
Rockets hit near US embassy in Iraq, missing their target again
Two rockets have hit near the US embassy in the high-security Green Zone in the Iraqi capital, Baghdad, a security source says.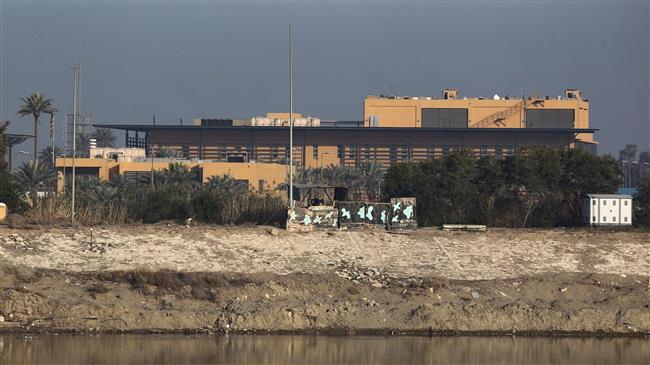 The Green Zone is one of the world's most high-security institutional quarters. Located in the center of the Iraqi capital, it houses the parliament, the prime minister's office, the presidential palace, other key institutions, top officials' homes and embassies.
The American embassy in Baghdad — the world's largest — lies within the fortified neighborhood also known as the International Zone, which is surrounded by concrete walls.
In recent months, however, the fortified zone has been repeatedly targeted by Katyusha rockets.
Each time these mostly erratic volleys have hit near the US diplomatic perimeter, Washington has been quick to point the finger at popular anti-terror groups, which are now integrated into Iraq's regular armed forces.
The Iraqi groups have dismissed the accusations, saying the ordinance used in such attacks is not used by them.
The US military, however, has used such attacks as a pretext to pressure the Iraqi government to disband the country's anti-terror organizations and staged airstrikes on their positions along with Israel.
Last December, the US attacked a base in northern Iraq, killing 25 Kataib Hezbollah fighters after an American contractor was allegedly killed in a rocket attack.
Several reports later suggested that Takfiri terrorists had been behind the rocket fire and similar attacks, which almost always miss their targets.
Whether the assaults are coordinated between US forces and Takfiri militants is anybody's guess, but according to many observers, what is certain is that the US military knows well who the real perpetrators are.
Still, US authorities are apt to blame them on Iraq's popular groups, mostly Hashd al-Sha'abi, which is the most potent force opposed to the American military presence in the Arab country and the region.
Around 5,200 US troops are still in Iraq. Anti-American sentiment has been running high in Iraq following Washington's January 3 assassination of Iraq's anti-terror commander Abu Mahdi al-Muhandis and Iran's General Qassem Soleimani.
In January, the Iraqi parliament voted to expel all American forces from the country after the assassination and the airstrike on Kataib Hezbollah's base.
US President Donald Trump has refused to discuss the withdrawal and instead threatened to seize about $35 billion of Iraqi oil revenues held in a bank account in New York.
Iran responded to the assassination with a volley of missiles at Ain al-Asad base that hosts about 1,500 US troops in Iraq's Anbar province.
Iraqi resistance groups have also pledged to avenge the assassination of Abu Mahdi in a capacity equal to Iran's response or even harsher.