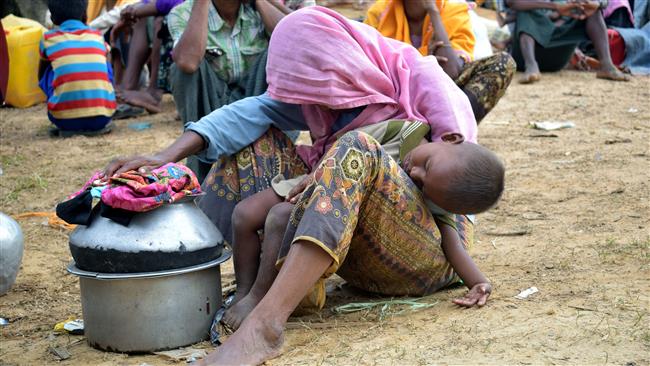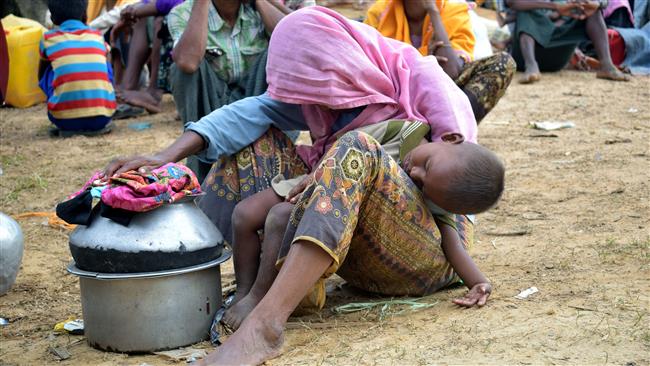 A government crackdown in Myanmar has forced nearly 19,000 members of Myanmar's minority Rohingya Muslim community to flee to neighboring Bangladesh in less than a week.
"As of last night, 18,500 people have come across" from Myanmar's Rakhine State, where they mainly reside, said Chris Lom, the International Organization for Migration's Asia-Pacific spokesman, on Wednesday.
Lom suggested that the number could be significantly higher as many of the displaced people might not have registered with Bangladeshi authorities.
"We also know there are people stuck at the border, but we do not know how many," he said.
The roughly one-million-strong Rohingya community, which the Myanmarese government brands as illegal immigrants from Bangladesh, has been suffering widespread and systematic aggression for years on end.
Buddhist extremists have been waging communal violence in Rakhine since 2012. Hundreds of people have been killed and tens of thousands forced from their homes as a result.
In addition, Rakhine has been under a military lockdown, which came with a "counterinsurgency" push since an alleged attack on the country's border guards on October 9 last year. Nine police officers were killed in that attack, which the government blamed on armed Rohingyas.
At least 110 people have been killed in a fresh bout of violence that has gripped the region since six days ago. The government has put the blame for the killings on "militants" in an attempt to justify its heavy-handed security response.
The United Nations believes that the Myanmarese government might have committed ethnic cleansing and crimes against humanity in its crackdown on the Rohingya.
Bangladesh currently hosts some 400,000 of the uprooted people.