Iran
Iraq
Middle East
North America
Rouhani to US: You cut Sulemani's hand, Your leg will be cut off from the region in response
"You cut off Suleimani's hand, we will cut your legs off the region," Iran`s President Hassan Rouhani said at the Cabinet meeting Jan.8, referring to Iran`s recent attack on US bases in Iraq, Trend's special correspondent reported.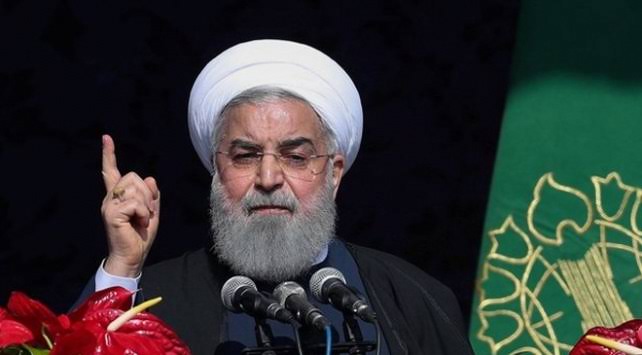 "Among the goals of the United States are to create fear and discord both within Iran and at the regional level, to distance Iran and Iraq from each other and to prevent the region's liberation from invaders and terrorists. Fortunately, all these goals have failed," Rouhani said.
Rouhani said the US made a big mistake by killing Soleimani and cannot avoid its negative consequences.
He added that this step of the US is condered an international war crime.
By committing this attack, the US wanted to create a discord between Iran and Iraq, but this made the peoples of the two countries even closer to each other, noted Iran's president.
Iran's Islamic Revolutionary Guard Corps (IRGC) used Fateh-313 ballistic missiles in attack on Iraq's Ayn al-Asad Air Base.
These missiles were fired from Iran's Kermanshah province (430 kilometers) because of its proximity to the military base.
The missiles have a range of 500 kilometers. Previous reports said that at least 80 US servicemen were killed in an attack on Iraq's Ayn al-Asad Air Base by the Islamic Revolutionary Guard Corps (IRGC). About 200 people were injured.
Ayn al-Asad Air Base was a strategic spot for the US and delivered support to drones from that base, the IRGC representative said.
Fifteen missiles were fired at 20 sensitive locations, Numerous drones and helicopters were destroyed.