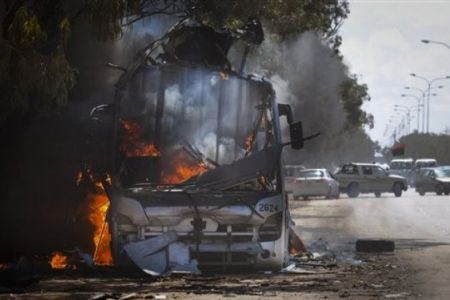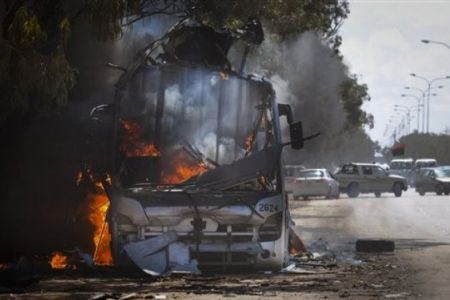 The Russian government has called on the Western military alliance in Libya to stop the attacks, since they resulted in civilians casualties almost immediately after invasion.
The Russian foreign ministry called on the United States, Britain and France on Sunday to stop air strikes against non-military targets in Libya.
"In that respect we call on countries involved to stop the non-selective use of force," Foreign Ministry's spokesman Alexander Lukashevich said in a statement.
Libyan state television announced that 48 people were killed and 150 were wounded in the strikes, including civilians.
China and the African union have also condemned the military action.
Moreover, Americans have taken to the streets in their thousands to protest against US military intervention in Libya.
They also rallied against the American-led wars in Iraq and Afghanistan, a Press TV correspondent reported from Los Angeles.
The developments come as US and European forces have unleashed airstrikes and cruise missile attacks against forces loyal to embattled Libyan ruler Muammar Gaddafi.
Nineteen US planes, including three B2 stealth bombers, took part in a dawn raid.
Scores of people, many of them civilians, were killed in the attacks.
However, top US military commander, Michael Mullen, has described the first stage of the war as successful.
The action follows a Thursday UN Security Council resolution which endorsed intervention in Libya.
Canada is also sending warplanes to the region, while Italy has offered the use of its military bases.
Gaddafi has promised retaliation, saying he will open arms depots to people to fight the allied forces.
"We promise you a long, drawn-out war with no limits," Gaddafi said on state TV on Sunday morning.
It is the biggest Western military intervention in the Arab world since the 2003 invasion of Iraq.