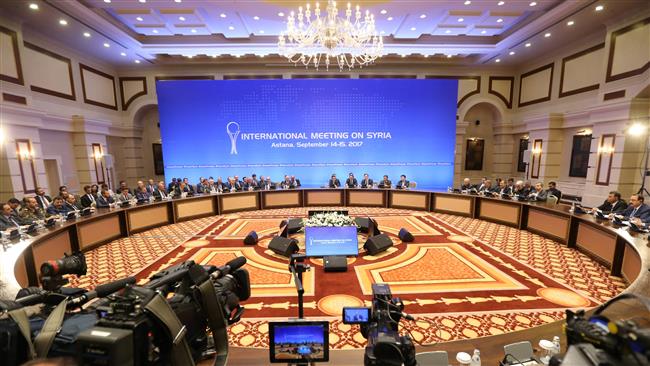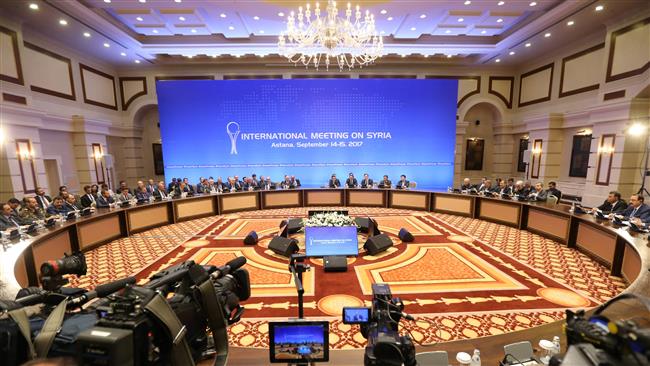 Russia, Iran, and Turkey, which together act as guarantor states in peace talks for Syria, have agreed on the details of a "de-escalation zone" in the Arab country's western Idlib province during resolution talks in the Kazakh capital of Astana.
In a joint statement after two days of talks in Kazakhstan, the three countries said on Friday that they had agreed "to allocate" their forces to patrol the zone covering Idlib province and parts of the neighboring Latakia, Hama and Aleppo regions.
"Observers from these three countries will be deployed at check and observation points in safe zones that form the borders of the de-escalation zone," the Turkish Foreign Ministry said in a statement.
"The main mission of these observers has been defined as the prevention of clashes between the government and the opposition forces and any violations of the truce," it added.
Russian negotiator Alexander Lavrentyev said Russia, Iran and Turkey will each send about 500 observers to Idlib, and the Russians will be military policemen.
Iranian Deputy Foreign Minister for Arab and African Affairs Hossein Jaberi Ansari, speaking in Astana to Lebanon's al-Manar TV station, described the newly-agreed zones in Syria as a "secure cordon" with checkpoints.
The northwestern province of Idlib borders Turkey and is largely under the control of al-Nusra Front Takfiri militants.
The original agreement on the creation of the four zones, which came about in May, has been one of the substantive results of the talks, many rounds of which have taken place since January.
So far, agreements had been reached on the demarcation of three of the zones in Idlib's neighboring provinces of Latakia, Aleppo, and Hama.
Syria has been gripped by foreign-backed militancy since 2011.
In Idlib, militants from the al-Nusra Front group are fighting the Syrian government.
The militants suffered their biggest blow since the onset of the militancy last year, when Syria recaptured Aleppo's provincial capital.
The mediating states then joined efforts late last year to bring about a ceasefire over the city, which was then extended to the entire Syria.