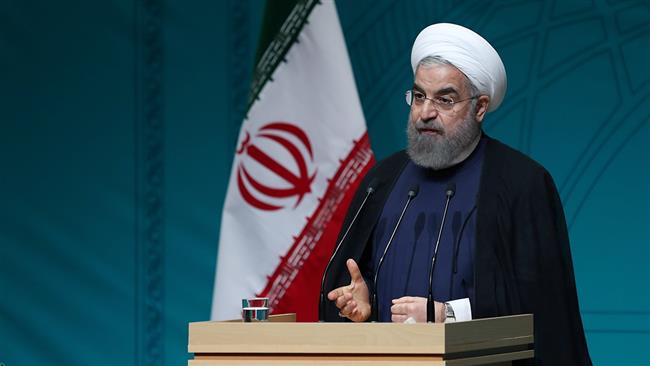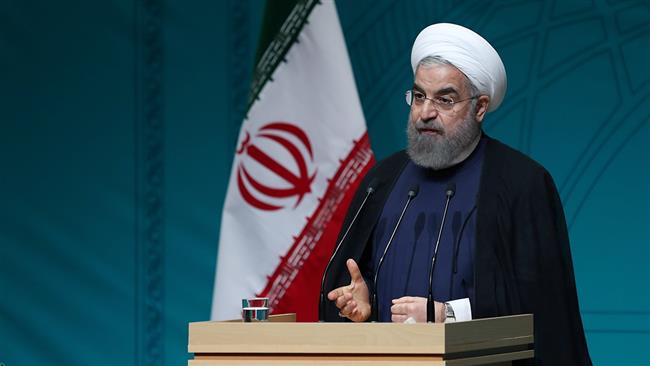 Iran's President Hassan Rouhani says the Saudi obstruction of the Iranians' Hajj pilgrimage this year serves the interests of the Zionist regime of Israel.
"Hajj, Mecca and Medina belong to all Muslims and are a platform for fulfilling the interests of the Muslim world," Rouhani said in an address in the northwestern Iranian province of West Azerbaijan on Monday.
"The childish bid by those claiming to be the custodians of the two holy mosques in blocking the path of God and Hajj as well as spreading instability in the region is [tantamount to] meeting the interests of the Zionist regime," he added.
Elsewhere in his speech, Rouhani said all those who instigate instability in the region, seek to promote the same insecurity in Iran.
"Terrorism and murder are rooted in international Zionism and global arrogance; however, faced with the unity and strong resistance of the Iranian nation, they failed to carry out their plots," the Iranian president pointed out.
He emphasized that faith, solidarity and unity of the Iranian nation have struck fear in the hearts of global powers and foiled their ominous plots.
Iranian Culture Minister Ali Jannati said on Sunday that given "sabotage and obstacles" created by Saudi officials, performing the Hajj ritual this year is virtually impossible.
The minister's remarks came after a six-member Iranian delegation traveled to Saudi Arabia on May 24 for a second time to hold last-ditch talks with Saudi officials to iron out differences between the two countries, but negotiations failed to bear fruit.
Relations between Iran and Saudi Arabia plummeted after the kingdom's execution of prominent Shia cleric Nimr al-Nimr in January.
Saudi Arabia cut diplomatic ties and halted flights to and from Iran on January 3 following attacks on vacant Saudi diplomatic premises in the Iranian capital and the city of Mashhad by angry people protesting Nimr's execution.
This as more than 2,400 foreign pilgrims, including 464 Iranians, were killed after two large masses of pilgrims converged at a crossroads in Mina, near the holy Saudi city of Mecca, during the symbolic ceremony of the stoning of Satan in Jamarat on September 24, 2015.