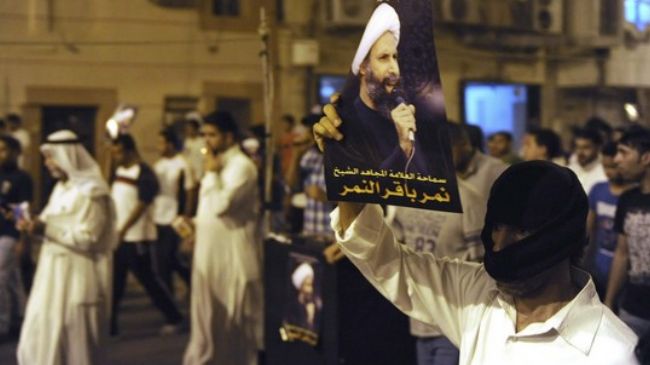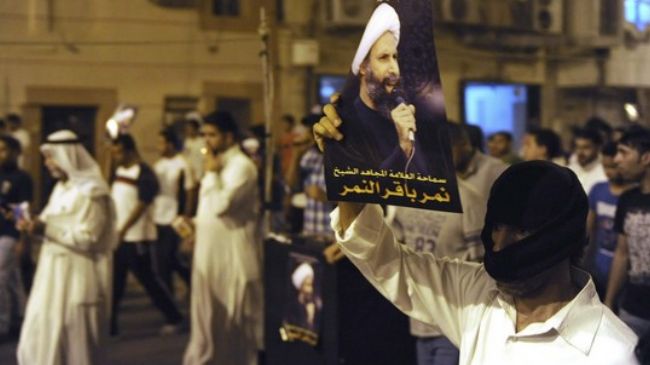 A political commentator says the Saudi monarchy is "playing with fire" by issuing a death sentence against Saudi Shia cleric Sheikh Nimr Baqir al-Nimr.
Naseer al-Omari, writer and political commentator, said in an interview that the regime has put itself in trouble and showed a "lack of wisdom" by issuing the harsh sentence.
The analyst said that the Riyadh regime is resorting to different types of violence to silence voices of dissent and stifle opposition across the country.
"This regime has been torturing and killing people. The stories are simply horrific," al-Omari warned.
Commenting on the Saudi justice system, the analyst noted that Sheikh Nimr and several other activists were handed down severe jail terms by politicized courts set up by the Saudi Interior Ministry.
The commentator also noted that Sheikh Nimr has lead just peaceful pro-democracy rallies across the kingdom.
Amnesty International has called the death sentence for Sheikh Nimr "appalling," saying the verdict should be quashed.
The analyst stated that the Saudi monarchy is corrupt and marginalizes the country's Shia community, adding that Shia Muslims are being treated as "second-class" citizens.
Saudi Arabia's oil-rich Eastern Province has been the scene of numerous demonstrations by Shia Muslims since 2011.
Demonstrators in the Qatif region of Eastern Province have been protesting against the suppression of the Shia population in the country.
The analyst also strongly criticized the regime's support for terrorism, saying the KSA-backed militant groups are now threatening the Saudi borders as well.
Saudi Arabia is an absolute monarchy that does not allow any elections.
International human rights organizations have censured the Persian Gulf monarchy for its failure to address the issue of human rights in Saudi Arabia. Critics say the country shows zero-tolerance toward dissent.