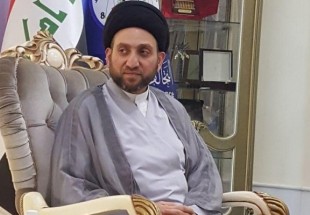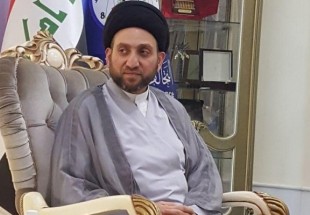 "Iran is the most reliable supporter of Iraq in political and security fields," stressed Head of the National Wisdom Movement of Iraq noting it must take part in Iraq reconstruction.
Attending a ceremony to celebrate the 40th anniversary of Iran's 1979 Islamic Revolution in Iraqi capital Baghdad, with Iranian ambassador to Iraq Iraj Masjedi in attendance, Sayyed Ammar Hakim gave a speech about the different dimensions of Imam Khomeini's personality and the wise leadership of the Iran's Leader and the unique characteristics of Iran's Islamic Revolution.
Sayyed al-Hakimhailed the achievements of the Islamic Revolution in Iran saying "the Islamic Revolution of Iran has maintained its revolutionary character after 39 years," relating it to the wise leadership of Iran's Leader Ayatollah Ali Khamenei.
Later in his remarks he said that both Imam Khomeini and Imam Khamenei had a profound understanding of the Iraq.
Referring to the relations between Iran and Iraq, the head of the Iraqi National Wisdom Movement described Iran-Iraq relations as 'special' adding that no other country's leaders have lived in Iraq as the Islamic Republic of Iran.
Sayyed al-Hakimstated that "over the past 14 years, Iran has always been the most important, the most powerful and the most serious supporter of Iraq in the political and security areas and the fight against ISIL," stressing the necessity of the Islamic Republic of Iran's presence in the reconstruction process of post-SIL Iraq.
The head of Iraqi National Wisdom Movement concluded that the Iran's Islamic Revolution belongs to every Islamic nation and the whole nations in the world