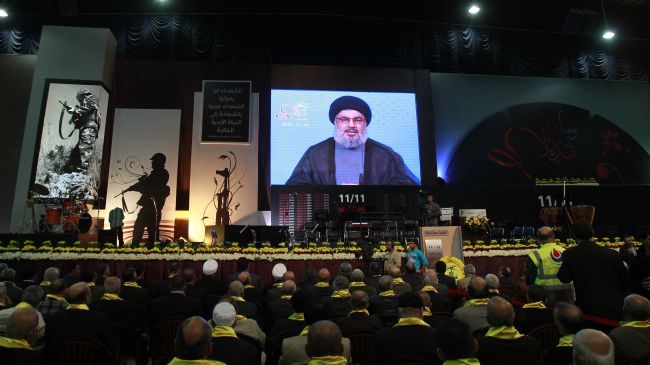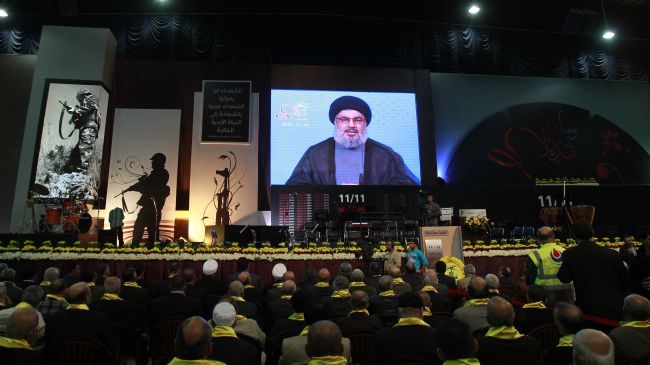 The Hezbollah secretary general has denounced a newly formed foreign-backed Syrian opposition bloc as "a new US invention," adding Washington is seeking to push its own agenda through fanning the flames of war in the Arab country.
Seyyed Hassan Nasrallah made the remarks late on Monday in a televised speech given during a ceremony in southern Beirut to commemorate the Martyrs' Day.
"They [the Syrian opposition] met in Doha, locked themselves in a hotel to form a new group and did what [US Secretary of State Hillary] Clinton and America wanted," Nasrallah said.
"But the most dangerous aspect is that the opposition parties decided unanimously in Doha to reject dialogue and a political solution," he added, noting, "That is to say, they have chosen the path of destruction. And who will profit from this? Clinton, the United States, Israel, and certain regional parties."
Syria has been experiencing unrest since March 2011. The Syrian government says that the chaos is being orchestrated from outside the country. It accuses Turkey, Saudi Arabia, Qatar, France, and the United States of backing the deadly insurgency that has claimed the lives of many Syrians, including security and army personnel.
Turning to Israel, the Hezbollah secretary general said the Lebanese resistance movement is capable of deterring Israel from attacking Lebanon.
Nasrallah said the resistance movement is capable of retaliating against any attack by the Israeli military.
He also described an Iranian-made drone — which had penetrated tens of kilometers into Israeli airspace and gotten very close to the Dimona nuclear plant last month — as part of the resistance movement's deterrence strategy. "We have reached a point where we forced the enemy (Israel) to acknowledge the deterrence force created by the resistance in Lebanon."
"Israel did not do anything" after the October 6 drone incident "because today there is a different reality in Lebanon," Nasrallah added.
"The name of the game is only deterrence. Now the Zionist enemy cannot come and continue to bomb and destroy," the Hezbollah secretary general stated.
Elsewhere in his remarks, Nasrallah censured the international community and the Arab League for remaining silent on the Bahraini government's crackdown on peaceful protesters in the kingdom.
The Bahraini revolution began in mid-February 2011, when the people, inspired by the popular revolutions that toppled the dictators of Tunisia and Egypt, started holding massive demonstrations.
The Bahraini government promptly launched a brutal crackdown on the peaceful protests and called in Saudi-led Arab forces from neighboring Persian Gulf states.
Dozens of people have been killed in the crackdown, and the security forces have arrested hundreds, including doctors and nurses accused of treating injured revolutionaries.