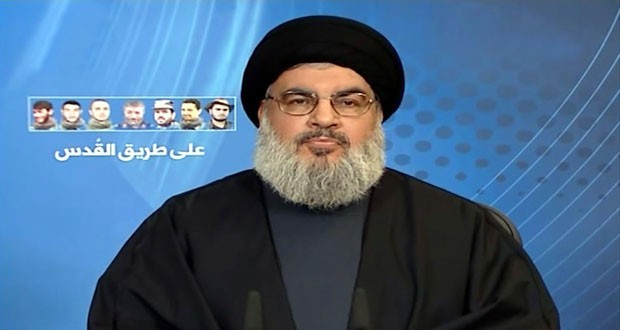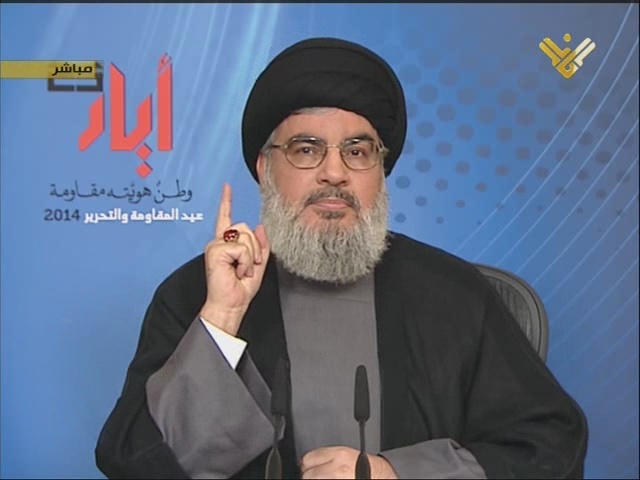 Hezbollah Secretary General Sayyed Hasan Nasrallah delivered a speech on Friday, in which he declared the resistance stance on the Israeli attack in the Syrian Golan town of Quneitra.
Nasrallah was speaking during a ceremony held by Hezbollah in Sayyed Shuhada Complex, in Beirut's southern suburb (Dahiyeh), to pay tribute to martyrs who were killed in the terrorist Israeli attack, which took place on January 18.
Quneitra attack killed six Hezbollah fighters and a General in Iran's Islamic Revolution Guards Corps.
On Wednesday, Hezbollah targeted an Israeli convoy in Shebaa Farms, destroying several vehicles and inflicting heavy losses upon the occupation enemy.
The operation allegedly claimed the lives of an officer and a soldier, and injured seven other soldiers.
Israeli media were awaiting Sayyed Nasrallah speech especially after the immense reports analyzing the Shebaa Farms operation.
Nassrallah said, 'My message today, from now on, any member of Hezbollah who is killed, we will hold Israel responsible for it and will respond in the way that we decide.'
He added after the Quneitra operation and the Shebaa response, I announce that I don't care about the rules of engagement anymore.
'I thank and greet the resistance mujahedeen and leaders, especially those who carried out the operation and I kiss their hands and foreheads.'
The difference is that Israel fights from behind a shield and from the back while our men, because they are real men, fight face to face, said Hassan Nassrallah.
The operation took off and ended and Israel did not have a clue about what was happening yet. This is a message to the friends before the enemy, said Nassrallah.
'Since the first moment we were certain about revenge, we did not have a doubt about it. Israel had to be punished and this was worth sacrifice.'
'Israel must know that it cannot kill people and go to sleep peacefully as if what it killed were only bugs!' said the Secretary General of Leabanes Hezbollah.
'Neither Iran nor Syria tried to stop us from responding as some analysts claimed, because none of our friends accept that we get humiliated or get killed and just sit and watch.'
One of the first achievements of these martyrs is that Israel has been on alert and fear from Sunday until Wednesday, just awaiting the response of Hezbollah.
'On the humanitarian level, we are in pain for this loss, but on the other hand, we regard this calamity as a blessing and the Israelis must know that this is how we think.
'How come Israel is not worried about the presence of this terrorist organization in Golan? It even aids it and Netanyahu pays visits to their injured ones.'
Israel feared the presence of some Hezbollah fighters In Golan, but is content with the presence of the Syrian version of Al-Qaeda and all its military arsenal in that same region.'
Hezbollah did not instantly claim responsibility of the attack and Israel might have thought that Hezbollah would not announce about it because it already has martyrs falling in Syria, but the enemy was shocked when Hezbollah announced it.
On Sunday before noon Israeli aircrafts targeted two civil cars carrying seven brothers Israel thinks it can threaten and assault anyone it wants and no one can stop it.
'Our region has been suffering at least since 1948 from a cancer called 'Israel', a cancerous cell and a terrorist state, and a corruption germ… It has always been like this.
These martyrs prove to everyone that, unlike what some try to state, our mujahedeen are still on the borders and will stay on the borders because nothing in this world can stand between them and what they love.
Heroes like these who were martyred tell Netanyahu when he threatens them what Imam Hussein said 'Do you threaten us with death? Well, death for us is a norm and Allah honors us with martyrdom.'
Addressing the martyrs, Nassrallah said,'We envy you for what you got, and we ask Allah to grant us this gift one day. We envy you because you left this world with all its concerns.'
Nasrallah sent gratitude to everyone who stood in solidarity with Hezbollah after this crime.
Seyyed Nasrallah addressed the families of the martyrs and congratulated them for the elevation of their sons from this materialistic life to the real life.