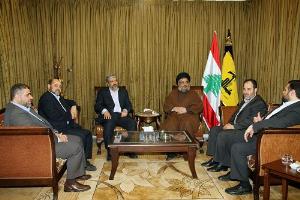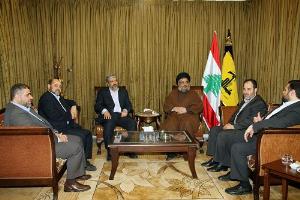 Hezbollah Secretary General Sayyed Hasan Nasrallah received visiting Hamas leader Khaled Meshaal at the head of a delegation representing the Palestinian Resistance movement including Hamas officials Mussa Abu Marzouq and Oussama Hamdan.
The meeting, attended by the member of Hezbollah politburo Hajj Hasan Hodroj, was an opportunity for both leaders to discuss the latest developments in the region in general and the Lebanese and Palestinian situation in particular.
According to a statement released by Hezbollah media relations, Sayyed Nasrallah and his guests discussed the latest political developments related to the efforts undergone to resume the settlement negotiations according to the Israeli conditions. They expressed belief such policies signal the level of failure and decline reached in the Arab official stances in the face of the Israeli threats and US pressures.
Sayyed Nasrallah and Meshaal stressed on the necessity to proceed in building Lebanese-Palestinian relations under the base of consolidation the steadfastness of the Lebanese and Palestinian nations against the schemes of imposing settlement and deleting the Right of Return.
They stressed that the essential and objective condition for that remains in providing Palestinians with their civil and social rights in a way that safeguards their identity and therefore their cause.