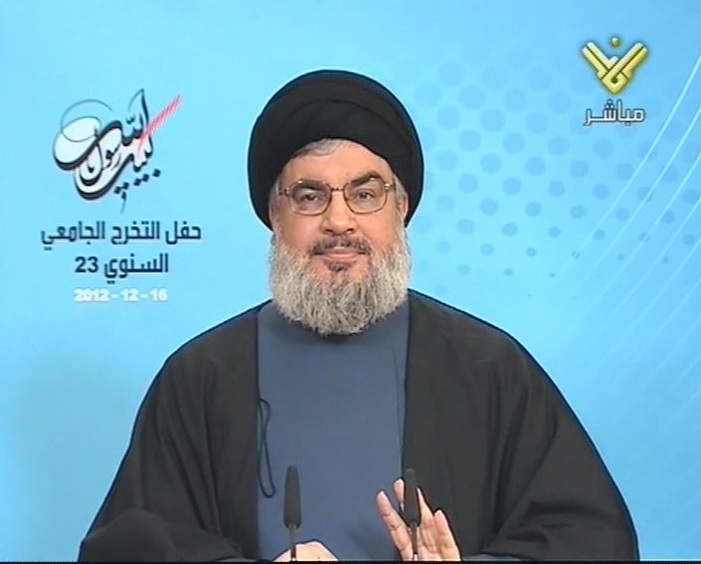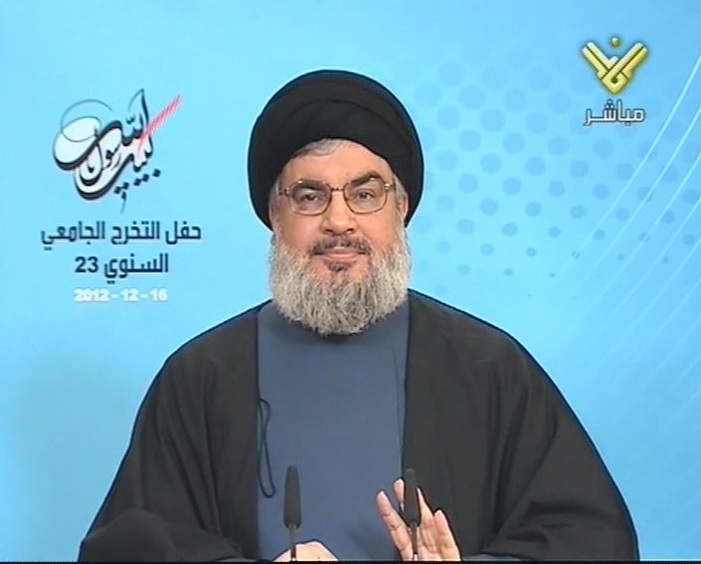 Hezbollah Secretary General Sayyed Hasan Nasrallah stressed that the "powerful" Zionist entity was over, and forever, following the defeat it faced in the last offensive against Gaza.
During a graduation ceremony which was organized by Hezbollah's Taabia'a Tarbawiya (Educational Youth Association of Hezbollah), Sayyed Nasrallah said that March 14 through its boycott to the parliament sessions was putting Hezbollah in front of two choices: either holding the 2013 election according to 1960 law or not holding the vote at all.
His eminence advised March 14 camp not to go on with their "wrong calculations" by betting on the fall of the Syrian regime and to sit for dialogue to end the ongoing crisis in Lebanon.
Hezbollah S.G. noted that the crisis in Syria was being more complicated; saying that refusing dialogue in Syria "means the continuity of the battle and the bloodshed."
He also addressed al-Qaeda, saying it was being trapped by the West which opened a front to extremist militants to fight in.
Sayyed Nasrallah said that he was so glad to see a March 14 delegation visiting Gaza and expressing its support to the resistance there.
On the relation with the Palestinian resistance movements, his eminence stressed it was normal especially with Hamas, saying all what was circulated in media about a strained relation between Hezbollah and Hamas were wishes and not reality.
"MARCH 14 HINDERS APPROVING ELECTORAL LAW"
Elaborating in the local issues, Sayyed Nasrallah assured that the March 14 camp's boycott to the parliamentary sessions aimed to hinder approving a new electoral law.
"March 14 camp's boycott is not aimed at holding pressure on the government. However it is aimed at suspending the Parliament in a bid to stand in the way of approving a new electoral law."
"The other side through its boycott is seeking to put us in front of two choices: either a vote under the law of 1960 or no election at all, and both of the choices are bad," Sayyed Nasrallah said.
His eminence slammed March 14 for betting on the foreign powers as saying: "since two years ago you have been committing the same fault. You are a political faction that depends on foreign forces."
Sayyed Nasrallah added that the government was not toppled in front of March 14 pressure because of the international behavior, and not because of Hezbollah's adherence to.
He set a plan in order to solve the ongoing crisis in the country, saying March 14 camp had wrong calculations as this camp was betting on the fall of the Syrian regime.
"I advise March 14 not to go on with its wrong calculations, to halt its boycott and to go ahead to the parliament to discuss the election law."
"In order to solve the ongoing crisis we should sit to dialogue, discuss election law and following the vote we should form a government which will be represented according to this vote," Sayyed Nasrallah added.
"SYRIA CRIRIS BECOMES MORE COMPLICATED, OF LONG-TERM"
On the ongoing crisis in the neighboring Syria, Sayyed Nasrallah said it became more complicated and of long-term, noting that the opposition could not secure a military achievement.
"In Syria things are being more complicated and the one who thinks that the opposition can control is mistaken."
Hi eminence noted that the Syrian people were divided, stressing that the strife was not between a regime and people.
"The strife in Syria is not between the regime and the people. This description is not true."
"In Syria, the popular partition becomes a reality, since there is a regime which has his own people in front of other people who were supported by foreign forces, something which led to a armed confrontation."
"There is a regime that has been defending its principles and armed groups who have been engaged in a harsh fight and the battle in Syria is of long-term."
He condemns the ongoing explosions which have been targeting civilians in the Syrian cities, stressing that a political settlement is the only way to solve the crisis in Syria.
"Who talks about morals I would like to ask him: are the people of Qatanah, Jalab, Jermanah or other cities which have been targeted by car bombs Syrians?" Sayyed Nasrallah wondered.
"Where is the moral stance from the Syrian people who are being killed, thrown from roofs and slaughtered by the armed opposition?"
"Refusing dialogue in Syria means the continuity of the battle and the bloodshed."
He addressed al-Qaeda which, according to media reports, has been sending militants to fight in Syria, as saying: "some Islamic and Western governments have set a trap for you in Syria and you were fallen in this trap."
"There are regional powers which benefit from the continuity of the battle in Syria,
Hezbollah S.G. said, adding: "The US does not want for the battle in Syria to be over in order to have more people killed in a bid to exhaust Syria and delete it from the national consideration."
RELATION WITH HAMAS NORMAL
On Gaza, Sayyed Nasrallah assured that the powerful, giant and frightful Zionist entity was over, after the latest offensive against the besieged strip last month.
"Just three missiles were enough to force the Israeli leadership to go to shelters, and to surrender in front of an unarmed and besieged strip," Sayyed Nasrallah said.
"Israel was defeated and it asked for a diplomatic solution," his eminence said, adding: "we should write down that the powerful, giant and frightful Israel is over… forever."
He added that the Zionist entity has been descending since the year of 2000 "when it withdrew from Lebanon humiliated and without a pre-condition."
Concerning the relation with the Palestinian resistance factions, Sayyed Nasrallah stressed it was normal, especially with Hamas.
"To all who talked during Gaza offensive and after it, supposing that the relation between Hamas, Hezbollah and Iran was strained, I say this is not true."
"Analysis was a lot, claiming that Hamas has gone out of the Persian heart to the Arabic heart… through experience we know that all what were circulated (in media) were just wishes and not reality."
"I say about this relation it is normal and nothing has been changed," Sayyed Nasrallah said, adding that Iran was doing its ideological duty.
In this context, Hezbollah leader urged Palestinian factions to say if Iran has interfered in the Palestinian affairs.
"Throughout 30 years, Iran has been supporting the Palestinian resistance without conditions. It expected nothing… even the word thank you."
"WE WELCOME ANY ARAB SUPPORT TO PALESTINE"
Sayyed Nasrallah welcomed any move to support Palestine by the Arab countries, stressing that Iran had no condition in return for its support.
"If the Arab countries want to provide Gaza with money, weapons and missiles then we salute these countries and support this move, something that could save Iran's money, his eminence said kidding.
"All what Iran wants for the Palestinians is to return their land, nothing else."
"Who wants to hold the resistance flag?… Egypt.. then we say we are beside you and behind you for the sake of Palestine."
"SO GLAD AS MARCH 14 DELEGATION VISIT GAZA"
On a visit made by March 14 delegation to Gaza in a bid to congratulate the resistance there for the victory in the latest offensive, Sayyed Nasrallah welcomed the coalition's position.
"A March 14 delegation visited Gaza to congratulate the resistance there for its victory, and I was so glad. It's a good thing.. I encourage this group to go to Gaza."
"We don't want from March 14 camp to support the resistance weapon in Lebanon. It is enough to congratulate the resistance in Gaza for its triumph."
"Some March 14 figures said when it was back from Gaza he would not abandon a span of hand of the Palestinian territories… It's excellent.. If Gaza visit changes your mind on the resistance then we would send you in the next time at our expenses," Sayyed Nasrallah addressed March 14, kidding.
LIVING CRISIS IN LEBANON PRIORITY
On the other hand, Hezbollah leader stressed the need to pay attention to the ongoing living crisis in Lebanon, as he praised the graduates who were taking part in the ceremony.
"This ceremony presents the real image of the Resistance and Hezbollah in Lebanon," Sayyed Nasrallah said, adding: "The students who belong to this resistance are those who study and fight. Some of them were martyred as they were studying at the university while others were martyred shortly after they were graduated."
"This assures that this Faithful path of Jihad is a movement of scientific and humanitarian building as well as it is a movement of liberation and dignity."
"We seek through our educated people to serve our country, develop it, solve its problems and defend it."
As he called for paying more attention to the Lebanese University, Sayyed Nasrallah said that the system of ranks and salaries should be approved.
"Our National University should be paid more attention since it's the university of poor people."
"The government should approve the system of ranks and salaries according to its abilities."
"The state, including all its institutions, should solve the living crisis. It's not only the government's responsibility," Hezbollah S.G. said, as he regretted that "many Lebanese factions do not take notice of the living crisis."
"Since 2004 the most important issue according to some political factions in Lebanon has been the resistance and its weapon," Sayyed Nasrallah noted.
"In the latest years all plots to topple the resistance have failed as well as the military wars," his eminence stressed, adding: "Everyone Knows that the resistance which defeated "Israel" is taking root and present in its people sentiment."