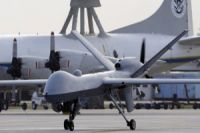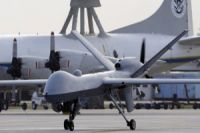 New documents show that militants may soon be able to target the CIA drones which carry out surveillance and assassination operations in Pakistan, Afghanistan, Yemen, Somalia and other nations.
According to Washington Post, citing top-secret US intelligence documents, the leadership of al-Qaeda has hired engineers to find ways to "shoot down, jam or remotely hijack" US drones,.
The United States uses unmanned aircraft to target "suspected militants" in certain countries but local and international reports indicate civilians are the main victims of the strikes.
Militant commanders are now hoping a technological breakthrough can curb the deadly drone campaign, which has killed thousands of people, mostly civilians, over the past decade.
The documents show the militant group has started their new strategy since 2010.
Disclosures are based on documents provided to The Post by American whistleblower Edward Snowden, who first leaked US surveillance programs in June and subsequently fled to Hong Kong and then Russia, where he remains after being granted temporary asylum.
The documents, titled: "Threats to Unmanned Aerial Vehicles," is a summary of dozens of intelligence assessments posted by US spy agencies since 2006.