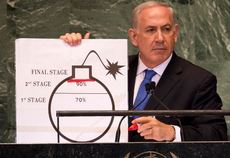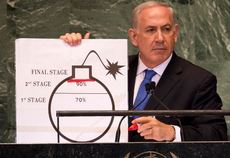 An Israeli report said on Wednesday that Israeli officials have conducted in recent weeks a series of secret intensive meetings concerning Iran with high-ranking officials from the Gulf States.Nettanyahu
Israeli Channel 2 reported that the two sides discussed coordinating moves against Iran as they expressed their apprehension and suspicion over Iran's peaceful rhetoric relating its nuclear ambitions.
Among the issues, reportedly discussed in the meetings, was a recent secret visit of a senior figure from the one of the Persian Gulf States to the Zionist entity.
Envoys from Saudi Arabia and the United Arab Emirates have in recent days asked Washington for clarifications regarding US intentions in its new diplomacy with Iran. This was also the focus of talks between US Secretary of State John Kerry and the foreign ministers of the UAE, Kuwait and Jordan.
On the other hand, Debkafile reported that this is the first time Israel official sources have publicly aired diplomatic contacts of this kind in the region.
They also reveal that the Zionist entity, Saudi Arabia and the Gulf emirates have agreed to synchronize their lobbying efforts in the US Congress to vote down the Obama administration's moves on Iran.