Iraq
North America
Senior Iraqi MP: Suppression of Protests Displays US False Human Rights Claims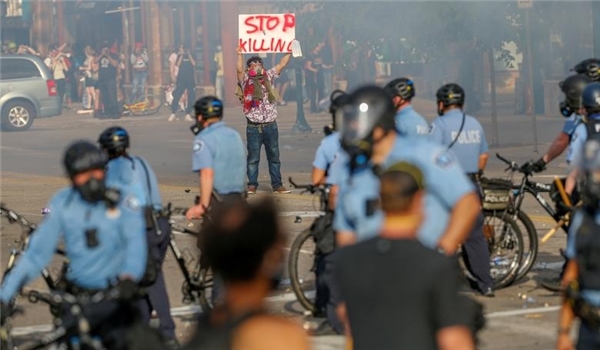 A senior Iraqi legislator condemned the US police's violence against the American protestors, saying that it showed the White House's lies in supporting human rights.
"The US police forces use extreme and lethal force against peaceful protests in Minnesota state and the human rights claimed by the US fades away this way," Hassan Salem was quoted by the Arabic-language Baghdad al-Youm newspaper as saying on Saturday.
He called on the UN and the human rights bodies to act against the US police forces' crimes against the protestors who want their rights and annihilation of racism against the black people.
Chaos erupted across the US Friday night as thousands of protesters descended on nearly a dozen cities, pleading for justice in the wake of 46-year-old George Floyd's killing earlier this week in Minneapolis.
President Donald Trump responded to the unrest on Thursday by calling rioters "thugs" and threatening that "when the looting starts, the shooting starts." Almost immediately, Twitter placed a warning on the post, saying it glorified violence.
Ex-police officer Derek Chauvin was fired Tuesday along with the three other officers involved in the incident. Chauvin was taken into custody Friday and faces third-degree murder and manslaughter charges, according to Hennepin County Attorney Mike Freeman.