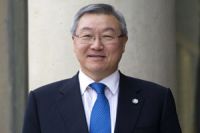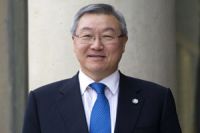 South Korea's Foreign Minister Kim Sung-hwan says Seoul plans to increase cooperation with Iran, despite the US-led sanctions imposed against the country.
The foreign minister said in an interview with Yonhap News Agency on Sunday, "We will continue with commodities trading using Iran's won-based accounts in South Korean banks".
Referring to anti-Iranian sanctions imposed by the US and Europe over Iran's nuclear energy program, the minister hoped the issue would be "resolved peacefully" so bilateral relations between Seoul and Tehran could "improve without restrictions."
He added, "…We will also engage in cultural exchanges in preparation for the future when sanctions on Iran are lifted".
At the beginning of 2012, the United States and the EU imposed sanctions on Iran's oil and financial sectors with the goal of preventing other countries from purchasing Iranian oil and conducting transactions with the Central Bank of Iran. The sanctions came into force in the early summer of 2012.
However, South Korea was granted exemption from the US-led sanctions on the Iranian oil industry in June.
Kim said he expected South Korea's 180-day exemption to be renewed upon review next month.