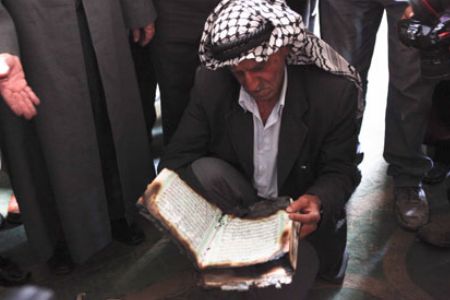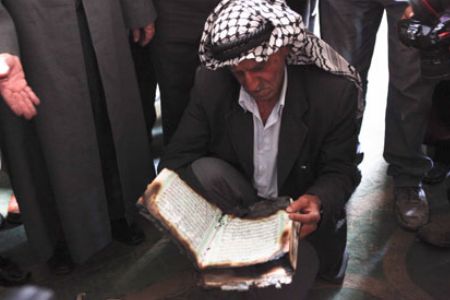 As Israeli settlers step up their assaults against West Bank mosques, Palestinians accuse them of making efforts to ignite a religious conflict in the region.
Israeli extremists vandalized a mosque in the Palestinian village of Beit Fajjar, north of the West Bank city of al-Khalil (Hebron), on Monday morning, burned copies of the holy Qur'an and sprayed graffiti blaspheming the Prophet Mohammad (PBUH) on the building's walls.
Later in the day, dozens of settlers gathered near the Palestinian village of Burin in the northern West Bank governorate of Nablus and called for demolition of the mosque in the village, Israel's Ynet news website reported.
"The demonstration in Burin is indicative of the settlers' plan to ignite the region in order to sabotage the negotiations," said Ghassan Daglas, the Palestinian Authority (PA) chief of the northern settlement file.
The official was referring to the US-sponsored direct talks between the PA and Israel. Ramallah has threatened to quit the talks if the Israeli regime does not impose a halt on its settlement construction in the West Bank.
"The settler harassments increase whenever there is some sort of diplomatic development or when the American envoy and other representatives visit the region in an attempt to jumpstart the process," he said.
Daglas added that Israeli settlers are growing more powerful and given their ever increasing numbers, Tel Aviv would not be able to ignore them and their positions. "Therefore, their influence on the diplomatic process is evident."
The PA official also accused Israeli Jews of purposely targeting agricultural fields and olive groves as well as mosques.
"They torched the mosques in Yasouf and Luban (villages), and this morning they set the mosque in Beit Fajjar on fire. This shows they are trying to divert the conflict to its religious aspect," he emphasized.