Syria
Shaaban: We won't accept whatever contradicts our principles and the Syrians' interests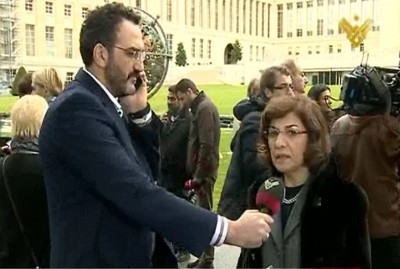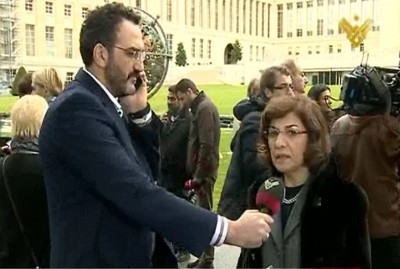 Presidential Political and Media Advisor Dr. Bouthaina Shaaban reaffirmed that the Syrian official delegation participating in Geneva is strongly present and it will not accept whatever contradicts its convictions, principles and the Syrian people's interests, pointing out that Geneva1 Communique stipulates that nothing can be done but through both parties' agreement.
On the U.S. attempt of bringing the armed factions of 'the Islamic Front' and others to broaden the coalition and make them join the negotiation table, Shaaban told the Lebanese al-Manar TV "That reflects their dubious relation with these sides that perpetrate acts of killing, mutilating kidnapping, in addition to sabotaging state institutions."
"There is an international side along with our Russian friends who see that adopting the political track may lead to outcomes that fulfill the Syrian people's interests," she clarified.
"The secret of the Syrian diplomacy is simple, which is represented through believing in the homeland and its sanctity…it is axiomatic that our choice is either to live with dignity in our homeland or die defending it."
On the former U.S. Ambassador Robert Ford's statements, Shaaban said " I do not know what makes him so bold as to address a speech to the Syrian people…I described him as 'High Commissioner' ," adding "Ford thinks that Syria -God forbidden- is under occupation, and that is because those cooperating with him make him understand that this is acceptable for them and because they receive his orders, so he thinks that the Syrians accept that, but he is mistaken."
She stressed that the U.S. escalation manifested through what Ambassador Ford and President Barack Obama have done is a result of our steadfastness and conviction that they will not be able to change anything.
On the official delegation's feeling that it was negotiating the U.S. upon setting with the coalition delegation, Dr. Shaaban said that " We had negotiations with the Israeli side through U.S. mediation, and I can say that it was better because what is strange regarding this side is that we have proposed a co-principles statement incontrovertible by any Syrian citizen containing the principles of Syria's independence, sovereignty and territorial integrity, in addition to counterterrorism and the rejection of foreign interference, but the other party rejected it."
"We presented a condemnation paper of the U.S. declaration of re-arming the so-called opposition, but the other party turned it down and rejected to condemn the U.S. decision," Shaaban said, pointing out that "there is no term in the world called 'an armed opposition, nor is there a law that allows to arm an opposition, which makes it a crime…but unfortunately they come out with terms in view of their dominance over media outlets."
Shaaban considered that "had their been good intention in exerting efforts for solving the crisis, the national internal opposition should have been invited along with Iran, which represents a major regional power."
On what has been said of coalition's achievement by gaining the recognition of the official delegation in Geneva communiqué, particularly item No. 8 which talks about " a transitional body", Shaaban clarified that the other side attempts to achieve an imaginary victory, adding that the Syrian government has come to Geneva according to the UN Secretary General's invitation which is based on Geneva1 Communiqué and we do not have any problem with that."
"The other party's problem is that they want to jump to item no. 8, but there is no logic that says we should start reading a paper from line no. 20, rather we should begin with line no. one of Geneve1 Communique, which is cessation of violence, named terrorism now…it is impossible to move to the political track without halting terrorism, which is targeting our people, institutions and army."
The Syrian senior official reaffirmed the need for pressuring on regional countries that finance, arm and send terrorists to stop that.
On the Syrian Arab delegation's success in refraining from giving statements to al-Jazeera TV, Shaaban said that this Channel is a co-murdering, being stained with the Syrian blood, so I decline to give it any statements, clarifying that the official Syrian delegate could expose the truth through their communications with different international media outlets.