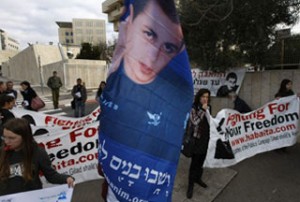 The captive Israeli soldier, Gilad Shalit, will be set free by the Palestinian Hamas resistance movement, as a deal for his release is in the final agreement stages.
American Arabic-language Alhurra news network on Wednesday reported that Shalit is slated to be released on the eve of the Muslim holiday of Eid al-Adha, which falls on Friday, October 27. The soldier will be released in exchange for "hundreds of prisoners," the network said.
Alhurra further reported that Shalit is slated to be released to Egypt and from there he will make his way to Israel. The details of the agreement will be made public in the coming days.
Gilad Shalit has been in Palestinian custody since he was abducted in a cross-border raid on June 25, 2006 by resistance fighters in Gaza Strip.
The Palestinian Islamic Resistance Movement (Hamas) has demanded that Israel release more than 1,000 Palestinians, including about 450 long-serving inmates, from its detention facilities in exchange for Shalit's freedom.
More than 11,500 Palestinians, including women and children, are currently imprisoned in Israeli prisons, suffering harsh and life-threatening conditions.