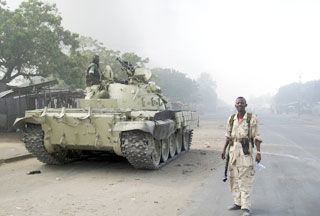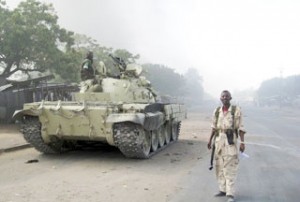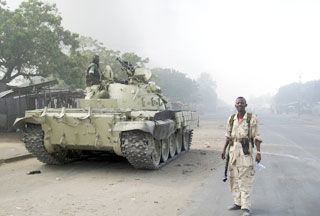 Deadly clashes have once again broken out between local fighters and pro-government forces across Somalia, leaving at least 45 people dead, many of them civilians.
Fighting erupted in the restive Somali capital Mogadishu late on Sunday, after fighters fired mortar rounds into a police compound, which was hosting the 66th police anniversary ceremony.
The attack prompted a heavy response from the African Union forces and government troops, who then shelled Mogadishu's busy Bakara market.
The exact number of people killed is yet unknown. However witnesses told Press TV that at least 20 people were killed and 45 others wounded in the fatal clash, including women and children.
No group has yet claimed responsibility for the latest violence, which comes in the wake of a government-planned offensive against the powerful local fighters in the beleaguered capital.
Meanwhile on the same day, at least 25 people were killed in Somalia's north-central Mudug province, causing unrest in a relatively calm neighborhood.
Local residents say a land dispute between warring clans in the Bacadweyn town triggered the bloody conflict, our correspondent added.
The fresh attacks have forced hundreds of families to flee their homes, adding to the humanitarian strife in the region.
Somalia has been marred by two decades of civil unrest following the ousting of former dictator Mohammad Siad Bare in 1991.
Years of fighting between rival warlords and an inability to deal with famine and disease have led to the deaths of hundred of thousands of people.