Korea
South Koreans in biggest rally to demand Park ouster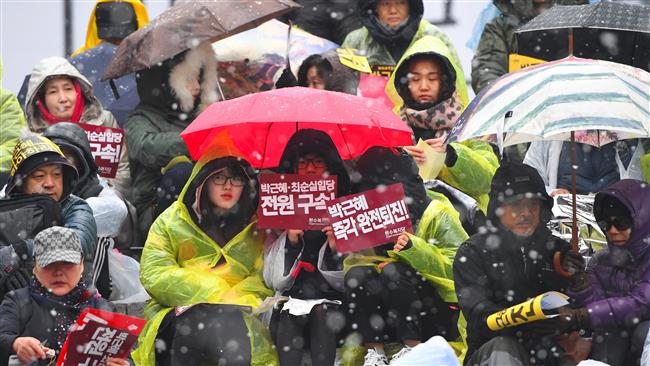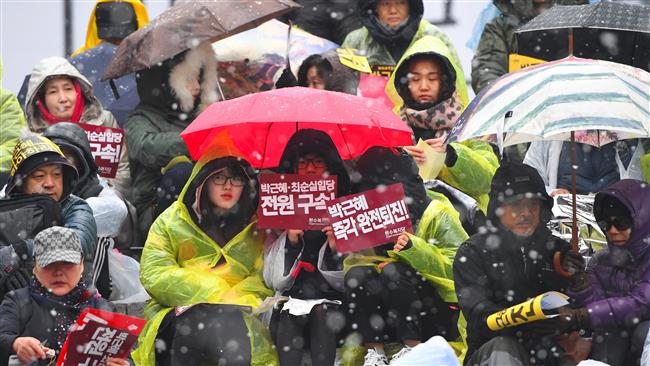 Hundreds of thousands of South Koreans have marched in the capital Seoul for the 5th week to demand the ouster of President Park Geun-hye over a corruption scandal.
Protest organizers estimated that up to 1.5 million people had taken part in the massive march on Saturday despite sleet and freezing temperatures to call for either resignation or impeachment of the president.
Another half a million protesters are also anticipated to take part in rallies in provincial cities across the East Asian nation.
As many as 25,000 police officers were deployed to contain the rally in Seoul, blocking roads leading to the presidential Blue House.
The development comes amid a looming parliamentary vote to impeach Park that may take place as early as next week as a rising number of ruling party politicians back the opposition-led campaign to force Park's ouster.
This is while the weekend protest rallies have been growing in size over the past month, drawing an estimated one million protesters two weeks ago, and are among the largest seen in the country since the pro-democracy protests in the 1980s.
While Park has apologized for the influence-peddling scandal involving her long-time confidante Choi Soon-sil, who has been detained for fraud and abuse of power, she has defied demands for her resignation.
Choi further stands accused of interference in government affairs, despite lacking any official position in Park's administration.
Choi, 60, allegedly used her close ties with Park to coerce donations from large companies, including SK, Lotte and Samsung, to non-profit foundations which she set up and used for personal gain.
Meanwhile, Park's approval ratings has plunge to a record low for a sitting president as her top advisers and a number of the most powerful corporations in the nation are caught up in the swelling scandal.
So far, the persisting protest rallies have been largely peaceful, with families, high school students, workers and farmers taking part while chanting slogans and carrying candles.
There was a festive mood among the protesters during the Saturday march as they wore raincoats and clutched umbrellas to protect themselves against the cold and wet weather as some danced to music being blared from loudspeakers.