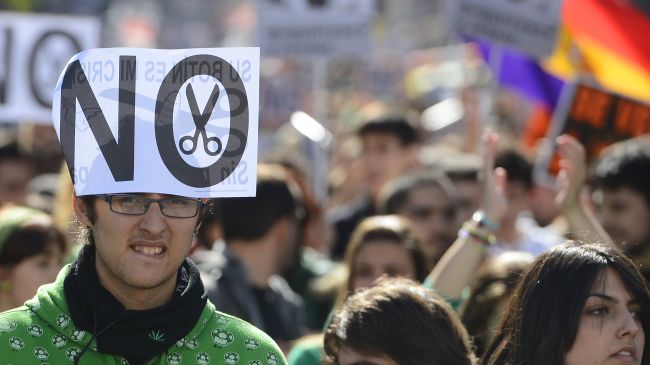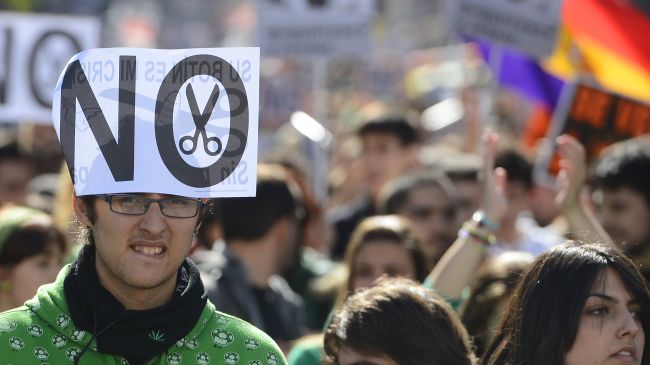 Spanish students have taken to the streets for a three-day nationwide protest to express their anger over government cuts in education.
Over a thousand secondary and university students gathered in Madrid on Wednesday as part of a nationwide strike to protest against the government's austerity measures which have taken aim at reducing provisions in the education sector.
Protesters rallied against the rise in public university fees, as well as the reduction of scholarships and number of teachers and classes, all actions initiated by Prime Minister Mariano Rajoy which are designed to reduce the public deficit.
A protester said students shouldn't have to pay for other people's fraud, adding that "We are here to demand that we have a right to education because every year workers pay tax for a public education and public health."
Elsewhere, the Swiss head of a consortium of banking institutions says there has been a sharp increase in Spaniards transferring their savings to Swiss banks. Experts say this could deal a severe blow to the already ailing Spanish economy.
Public protests have grown in the country over speculation that the government will seek a Greek-style European bailout to keep its borrowing costs in check.
Earlier this month, the European Union Economics Chief Olli Rehn called on Spanish officials to immediately accept a bailout to repair the country's deficit-laden finances.
With an unemployment rate of nearly 25 percent, Spain is under pressure to get its public finances on track amid concerns in the markets over the state of the country's banks and the wider economy.
The Spanish government has also been sharply criticized over the austerity measures that are hitting the middle and working classes the hardest.
The government has already cut public services and social benefits, while raising taxes which have eaten into people's livelihoods.
Battered by the global financial downturn, the Spanish economy collapsed into recession in the second half of 2008, destroying millions of jobs.
Spain, Greece, Italy, Cyprus and Portugal are all in recession and all five are receiving financial assistance from European bailout funds.