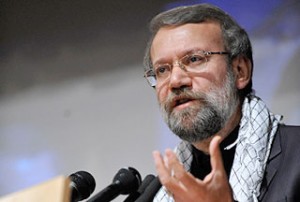 Iran's Speaker of the Parliament (Majlis) Ali Larijani has deplored West's double standards following the adaptation of a new resolution by the UN's nuclear watchdog against the Iranian nuclear program.
"We have faced an unusual and dual attitude by the P5+1 countries in recent days. These are states that claim to follow international rules and offer diplomatic solutions," Larijani said. "However, they bring discredit to the international bodies by their bullying attitude."
P5+1 countries refer to the five permanent members of the UN Security Council plus Germany that have been tasked to negotiate with Iran on its nuclear program.
Larijani made the remarks during a special ceremony held in Tehran Tuesday to mark the Parliament Day, which is set on the martyrdom anniversary of Ayatollah Hassan Modarres, one of the founding members of Iran's constitutional movement.
Modarres was killed in prison in 1937 for opposing the dictatorial rule of the Iranian king at the time, Reza Shah Pahlavi, better known as Reza khan.
Judiciary Chief Ayatollah Sadeq Amoli Larijani, the First Vice-President Mohammad-Reza Rahimi, Secretary of the Guardian Council Ayatollah Ahmad Jannati and many former lawmakers attended the ceremony.
The resolution by the 35-member International Atomic Energy Agency's Board of Governors, which was sponsored by Germany, calls on Iran to halt uranium enrichment and immediately freeze the construction of its Fordo nuclear facility, located near Qom.
The Fordo site will be Iran's second uranium enrichment plant, after the Natanz facility in central Iran, for the production of nuclear fuel enriched to the 5-percent level.
Iran says its nuclear program is solely meant for civilian applications of the technology and has called for the total eradication of all weapons of mass destruction.