Iran
Middle East
North America
Spokesman: Iran Not to Renegotiate N. Deal
Iranian Foreign Ministry Spokesman Saeed Khatibzadeh said that his country will not hold negotiations on the nuclear deal again, stressing the need for the next US government to make up for the damage inflicted on Iran by Washington's withdrawal from the internationally-endorsed agreement.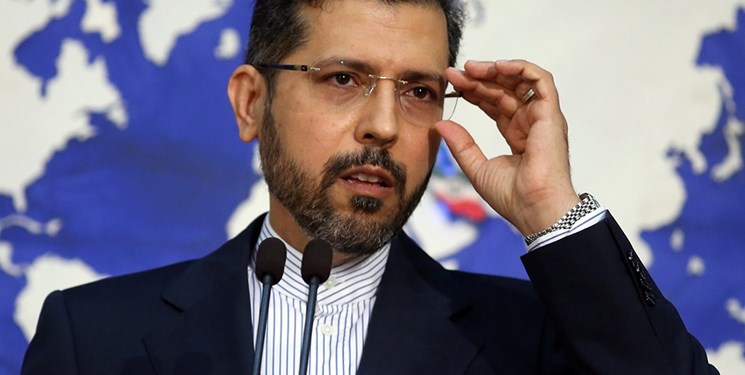 "Iran has declared several times that the nuclear deal was the result of long-time talks not between Iran and the US but between Iran and 5 members of the UN Security Council, the EU and Germany and it has turned into a binding international resolution by the 2231 resolution," Khatibzadeh told reporters in a video conference on Monday.
He added that "it is naïve to think that the nuclear deal can be renegotiated and what has been agreed, signed and sealed be opened again".
"Iran has several times declared that the nuclear deal is something related to the past and cannot be reopened by anyone," Khatibzadeh said.
He said that the US has violated the 2231 resolution and inflicted lots of damage on Iran, noting that Washington has legal and definite responsibility to make up for these harms and any government which wants to change the path of its predecessor should pay attention to this fact.
In relevant remarks on Sunday, Iranian President Hassan Rouhani said that the Iranian nation will continue to resist against the US pressures until forcing Washington to surrender to law.
"The Iranian people, through their heroic resistance to the US' economic war, have proved that Washington's policy of maximum pressure is doomed to failure," Rouhani said.
"The next US administration should use the opportunity to make up for the past mistakes against Iran," he noted.
In relevant remarks on Saturday, Rouhani lauded his nation for their resistance against the US pressures and sanctions in the past 3 years, expressing the hope that the new administration in the White House would take lesson from the past failures and rejoin the nuclear deal.
"People faced economic terrorism in the past three years and showed competent resistance and patience. Our country's decision is clear and our nation will continue its patience and resistance until the other side bows to the law and rules," President Rouhani said, addressing a meeting of the national coronavirus campaign headquarters in Tehran on Saturday.
"We hope that conditions alter in a way that those who have imposed sanctions will come to realize that they have moved along a wrong path, and that they will not attain their goals at all as they should take a lesson from this 3-year experience for the future US government to bow to the laws and rules and return to all its undertakings and (the Iranian) people would witness and feel the prize of their patience and resistance," he added.